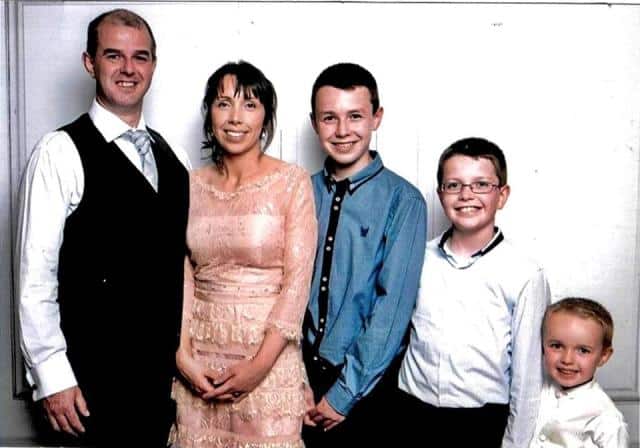 An inquest has heard that a grandmother knew something terrible had happened to her daughter and grandsons when she arrived at their house in Co. Cavan and saw a note pinned to the door.
Clodagh Hawe and her three boys were murdered by husband and dad, Alan, who then took his own life in the aftermath last year.
Clodagh Hawe's mother, Mary Coll, became upset as her evidence was read to the inquest about the morning she called to her daughter's home in Cavan.
She said there was a note pinned to the back door saying: "Please don't come in. Please call the Gardaí."
She said she knew something was wrong, knowing it was Alan's handwriting, and she went into the next door neighbour saying she thought Alan had done something terrible and 'killed them all'.
The Gardaí arrived soon after and the bodies of Clodagh, her three boys and their dad Alan were found inside.
A sealed three paged letter and a loose a4 page – written by Alan Hawe – were on the kitchen table.
The Deputy State Pathologist Dr. Michael Curtis told the inquest Clodagh died from axe and stab wounds and the three boys died from stab wounds.
Clodagh and her two older boys had what appeared to be defensive injuries on their bodies.
The inquest had heard Alan Hawe took his own life and had no alcohol or no drugs in his system.
The mother of Clodagh Hawe also added that everything seemed 'normal' the last time she saw her daughter and her family.
They had called to Mary's house the night before, had tea and were chatty – there were no warning signs for the mum.
The inquest heard Gardaí arrived the next morning to find five bodies inside. A hatchet and two knives were found inside the home.
If you have been affected by any of the issues presented, you can find information on mental health support services at www.yourmentalhealth.ie