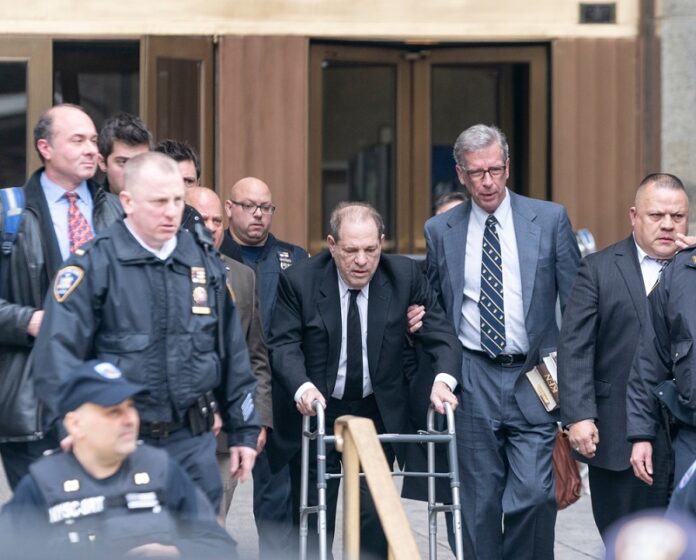 A US bankruptcy Judge has approved Harvey Weinstein's company liquidation plans which has set aside $17 million to be paid to women who accused the co-founder of Weinstein Co of sexual assualt.
Judge Mary Walrath presiding over a remote hearing from in Delaware, overruled an objection from a handful of women who have been looking to pursue appeals of their claims outside the bankruptcy court.
During the hearing, Judge Walrath highlight the fact the 83% of sexual misconduct claimants in the bankruptcy "have expressed very loudly that they want closure through acceptance of this plan, that they do not seek to have to go through any further litigation in order to receive some recovery, some possible recompense … although it's clear that money will never give them that."
The Weinstein Company sold its assets to Lantern Entertainment which eventually became Spyglass Media Group for nearly $300 million after it filed for bankruptcy in 2018. It was precipitated by claims of sexual abuse by Harvey Weinstein who is currently serving a 23 year prison sentence for his crimes.
It has been suggested that the women who filed claims could receive six figure sums.
Under the plan, the women will have the option to forgo most of their pay-out, if they want to continue pursuing their claims against Harvey Weinstein and former officers and directors of the company.
However, a group of women with sexual assualt claims believe the choice between their full pay-out or pursing further cases is unfair.
A lawyer for the company, Paul Zumbro of Cravath Swaine & Moore described the plan as a "favourable closure of this really ugly story".
Late last year, Radio Nova reported that Weinstein health had deteriorated as he was brought to a prison hospital, you can read our report on it here.
According to various sources, Weinstein has requested delays to further depositions, citing his health issues, but these have been dismissed.
Gwyneth Paltrow described Weinstein as a "really tough boss", for more information check out our story on it here.