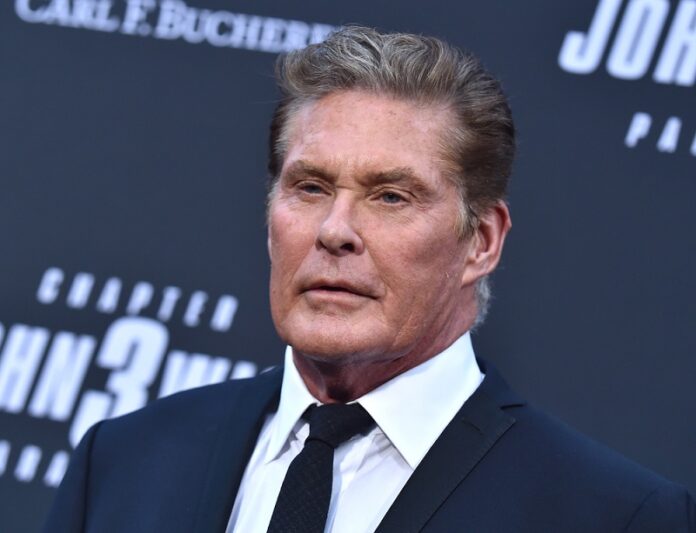 Hollywood movie star, David Hasselhoff is set to auction off a huge statue of himself. A gigantic 'Hoff' statue, used in the SpongeBob SquarePants Movie, is going up for auction at the end of the month.
The statue, aptly named 'Big Dave', is 14 feet long and is an enlarged, shirtless version of Hasselhoff, donning his famous red board shorts. It was homage paid to his days on the American action drama, Baywatch.
In the 2004 Nickelodeon film, Big Dave uses himself as a boat for SpongeBob and Patrick, so they can quickly get back to Bikini Bottom and return Neptune his crown back.
David Hasselhoff, made the announcement of Big Dave's auction on Instagram, sharing a short video that sees him standing atop the statue. The Hoff is trying to auction off the vast majority of his collection of movie prop souvenirs that he collected over the years.
"Everything goes, including Big Dave," Hasselhoff said. Bidding will start at $100,000 but the actor is hoping that the item will go in the region of $750,000 and $1.5 million.
The statue of 'Big Dave' is just one of the many memorabilia that will be available in The Hasselhoff Auction. The SpongeBob movie prop will be joined by a host of other exciting memorabilia.
People will be able to bid on items such as autographed articles of clothing, signs scripts, a Baywatch pinball machine and a selection of cars such as a 1961 SL190 Mercedes and his own replica of the KITT from the '80s TV show Knight Rider.
You can check out everything that will be up for grabs at The Hoff Auction here. Bidding will begin on the 23rd of January.
In other Hoff news, it really shouldn't come as a surprise after a strange 2020, but David Hasselhoff has released a heavy metal song in late last year. The former Baywatch star has teamed up with Austrian duo CueStack to release a song called 'Through The Night'. The Hoff has been working with the pair since 2018.