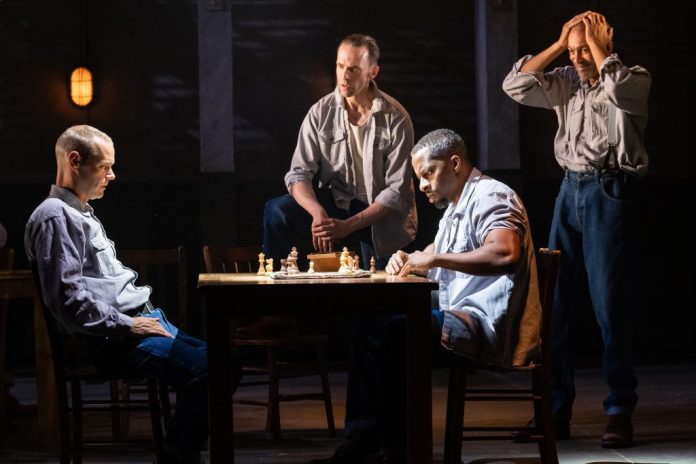 Would you like to listen to the article instead of reading it?
After a successful UK tour, which began last autumn, The Shawshank Redemption, is now on at The Gaiety Theatre Dublin till May 13 with tickets from €21.50 on sale now from Ticketmaster.
Based on Stephan King's 1982 novella, the play stars Joe Absolom, who is best known for his work in TV dramas like Doc Martin and A Confession. Joe brings his natural charisma and emotional range to the role of Andy Dufresne, the innocent man who is sent to prison for a crime he didn't commit.
Meanwhile, Ben Onwukwe, who has appeared in numerous stage productions, TV shows and films, portrays the wise and worldly "Red" Redding with incredible depth and nuance. With their chemistry, these two lead actors captivate audiences and bring this timeless story of hope and friendship to life on the stage.
HEAR JOE & BEN CHAT ABOUT THE SHOW HERE

https://www.nova.ie/wp-content/uploads/2023/05/SHAWSHANK.mp3
The 1994 feature film, The Shawshank Redemption, starring Tim Robbins and Morgan Freeman, was nominated for seven Academy Awards with The National Film Registry in America citing it as "culturally, historically, or aesthetically significant".
Adapted by Owen O'Neill and Dave Johns, this thrilling stage production examines desperation, injustice, friendship and hope behind the claustrophobic bars of a maximum-security facility.
Joe Absolom said, "The Shawshank Redemption is one of my favourite films, an incredibly moving tale of friendship and injustice, and I'm thrilled to be playing the iconic role of Andy Dufresne on stage around the UK".
"I'm delighted to be returning to the role of "Red" in this amazing production.  The Shawshank Redemption film is one which many hold close to their hearts, and it's exciting to be bringing Stephen King's story to new audiences. It is a modern meditation on hope and in these times, it is hope that we need," said Ben Onwukwe.
The cast is completed by Mark Heenehan (Stammas), Kenneth Jay (Brooksie), Coulter Dittman (Tommy Williams), Joe Reisig (Bryan Hadley), Owen Oldroyd (Entwistle), Jay Marsh (Bogs Diamond), Jules Brown (Rico), Leigh Jones (Rooster), Kieran Garland (Dawkins), Samarge Hamilton (Kelly).