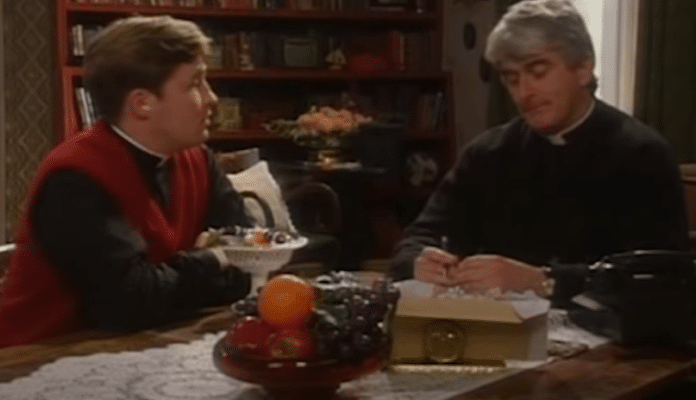 Since it first aired, Father Ted has continued to make audiences laugh with its delirious wit and anarchic brand of off-kilter humour.
It sadly came to end when the man who played Father Ted Crilly, Dermot Morgan tragically passed away after the third series.
Most Father Ted fans can recite whole episodes of the show. That My Lovely Horse episode was simply legendary!
However, what is not as well known about the show is the secrets behind the conception and filming.
Here are 9 of the best and bizarre incidents of the Irish comedy.
The 9 Father Ted Stories:
1. Father Ted was created as part of a U2 Tribute Act.
One of its creators, Arthur Mathews started the show as part of a U2 Tribute Act called the Joshua Trio. Mathews was a member of the band at the time.
2. Bono even wanted to be part of the series.
It may appear bizarre, but U2's Bono, requested to be part of the series!
3. Other celebrity fans include Liam Gallagher.
Father Ted even got singer Liam Gallagher hooked. The former Oasis star approached Dermot Morgan in a hotel in Dublin to express his love for the show.
At the time, Morgan said, "I was really surprised when Liam approached me in a hotel in Dublin to say how much he loved the series but then I realised it was a cool show".
4. Two Aran Island residents had a row over which was Craggy.
This one takes the biscuit when it comes to the Father Ted universe. Ahead of the Father Ted Festival in 2007, Inish Mór and Inis Oirr fell out over who had the bigger claim to represent Craggy Island.
At the time, one B&B owner on the Inis Oirr said, "It's unfair that Inis Mór is cashing in on Father Ted, when we have closer links with their show.
Even more Bizarre:
5. How they settled this argument.
This is either insane or the act of genius. The authorities of Inis Mór and Inis Oirr set up a five a side football match to decide which island could have the bigger claim on Craggy Island.
It was Inis Mór who emerged with the bragging rights, beating Inis Oirr 2-0. Father Ted would have approved, but what about Romeo Sensini!
6. Orginal Character Profiles were remarkable.
A year before the show first aired, makers of Father Ted were drawing up a blueprint for the main characters. Ted was to be basically a "nice man", Dougal was to be "really stupid" and Jack was to be "a hideous creature".
7. 25 Year Anniversary stamps created by An Post.
An Post released a book of stamps celebrating 25 years since the show first aired. They included some of the most iconic one liners from the show. "Down with this sort of thing" "Careful now". See here.
8. Dermot Morgan – a massive pizza fan.
The Father Ted icon was a huge fan of pizza. He even brought in pizzas to Ennis where the crew and cast were filming. Some that captures the DIY nature of Father Ted, and the class act that was Dermot Morgan.
9. Fans were desparate for the show to continue after Morgan's death.
Even after Dermot Morgan passed away, agents, directors and fans were desparate for the sitcom to continue. Graham Linehan and Arthur Mathews who created the show, refused all offers to actors keen to take on the role of Father Crilly.
They also rejected calls for a spin-off not featuring Ted.
Earlier this year, Dermot Morgan's son Don took to Twitter to urge TV critics not to take the show off air. See here.