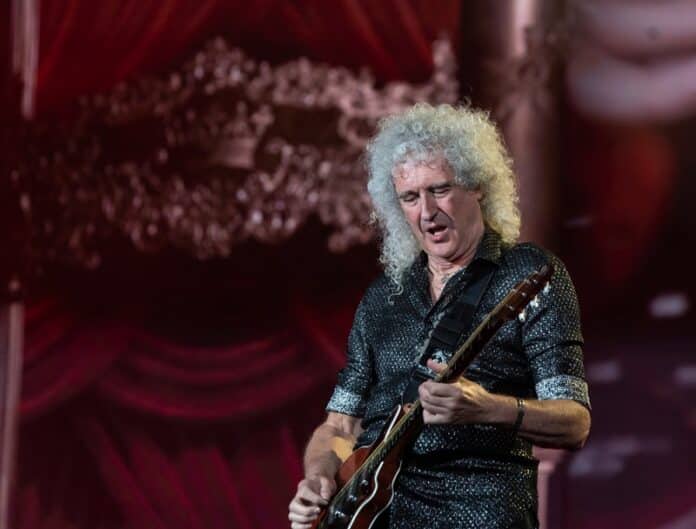 Brian May and Eddie Van Halen, two of the best guitarists of all time once worked together on a sci-fi themed EP.
In a new interview with Total Guitar, May opened up about the EP and Eddie Van Halen.
"It was not consciously conceived. Or not premeditated. I was living in Los Angeles at the time. Queen had taken a break – we'd sort of had enough of each other for a while. And for some reason I always felt like a different person in LA."
"I'm naturally quite shy and retiring, but in LA I feel I can call people. And one morning I thought, why don't I call Eddie Van Halen? Maybe we could get together" May wondered.
He continued "So I called and Eddie said, 'What do you want to do?' And I said, 'Well, strangely enough, I have an idea in my head…' Because my little boy had been watching this science fiction series and I always thought that the theme tune for it would be a great vehicle for all-out guitar playing. And Eddie said, 'I'm up for it!' So that was the beginning. I said, 'I'll call a few people and we'll get in there…'"
As if Brian May and Eddie Van Halen weren't already a great line up, May brought in REO Speedwagon's drummer Alan Gratzer, Rod Stewart's bassist Phil Chen, Queen keyboardist Fred Mandel and Queen's drummer Roger Taylor.
Once the title track, 'Star Fleet' was completed, May and Van Halen wondered what they could do next. Inspired by their mutual love of Eric Clapton, the pair wrote a song entitled 'Blues Breaker'. They also wrote another song called 'Let Me Out'. You can check out 'Star Fleet' below.
May and Van Halen had great fun working together and at one point, they even swapped guitars.
"Yes, he played my guitar and I played his guitar. And I sounded like me on his guitar and he sounded like him on my guitar, which reassured us that it's basically all in the fingers at the end of the day."
"No matter what guitar Eddie picked up, it sounded like him. And I saw him pick up Phil Chen's bass, and he sounded like Eddie Van Halen on Phil Chen's bass! So, yes, it's in the fingers" said May.
The Ep was recorded in just two days and was released under the moniker, 'Brian May + Friends'.
Brian May misses Eddie Van Halen. Remembering the legendary guitarist, May said "He was the greatest. There was no one who could match him, no one who could come close. There will never be another one of him."
He went on to add "All I can say is I miss him. I miss his presence in the world".
Yesterday, Radio Nova reported that Eddie Van Halen has made history, despite sadly passing away earlier this. You can read our report on it here.
https://www.youtube.com/watch?v=16UypAOUMXk&feature=youtu.be