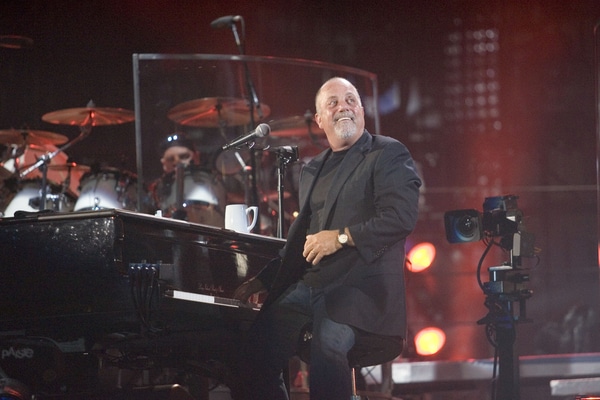 It is looking like Billy Joel will be touring this year. This gives great hope to music fans who have endured nothing but postponed concerts, and cancelled music festivals for the past year or so.
The singer has listed for his Madison Square Garden residency on his official website. According to his website, Joel is to perform at MSG in November and December 2021, as well as January, February, March and April of the following year.
This clip shows a classic Joel performance from the famous venue.
Regarding 2021, Billy Joel is to begin touring on April 17 in Charlotte, North Carolina.
Billy Joel's website also said that tickets that were purchased for the original tour gigs in 2020 will be automatically transferred to the new concert dates. If ticketholders want to request a refund, they should contact their point of purchase.
"It's a villege we have that he's created"
In other news regarding Joel, his long time saxophonist, Mark Rivera was full of admiration for his boss. Rivera hailed Joel for the way he treated his band and crew members during the Covid-19 pandemic.
Rivera said, , "I can't say enough about what Billy has done for this entire … some people call it a community, but it's a village we have that he's created".
Rivera and his wife battled covid-19 during 2020, and the saxophonist was grateful for how Billy Joel helped them out during that difficult time. "He's been so incredibly gracious and generous", Rivera explained.
He also added, "I don't have adjectives to describe. . . To be completely serious: a heartfelt thanks to him for taking care of this group of people. Everyone I speak to on the crew and the band feels the same way. I know other situations where guys have played with certain bands for years and they made three-year commitments and the rug has been pulled out from under them. I applaud our 'Piano Man' and God bless him". 
Rivera also talked about when he first auditioned to work for Billy Joel. He explains that Joel saw something in him quite early on.  "At the very end of the solo (to 'Just The Way You Are'), Billy literally stops the band. I was like, 'S***. Did I screw it up that badly?' He comes up to me, gives me a kiss and says, 'As long as you want to be in my band, you've got a gig.'
He also added, "He's kept his word and apparently I'm keeping mine. It's amazing, thinking back, that I'm the only person still standing from that group".
Joel expresses his support to Tony Bennett:
We brought the news recently, that Tony Bennett had revealed that he has been battling Alzheimers disease. Billy Joel, a friend of Bennetts, pledged his support for the singer.
Joel tweeted, "One of my favorite musical moments with my friend, the legendary @ItsTonyBennett from @thegarden. My heart is with Tony and his family today as he bravely shared his Alzheimer's diagnosis. – Billy Joel".