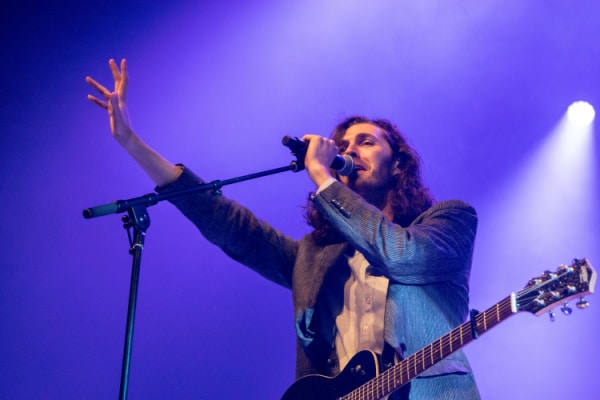 Would you like to listen to the article instead of reading it?
Hozier has revealed that he would consider going on strike amid the ongoing threat that Artificial Intelligence poses to the music industry.
The Bray singer's comments come as the Writers Guild of America and Screen Guilder's Guild have gone on strike in America, demanding better pay, working conditions, and assurances that they will not lose their jobs to AI.
"a philosophical debate"
Speaking to presenter Victoria Derbyshire on this issue, Hozier stated that he would consider striking, as a protest against AI.
"Whether [AI is] art or not, I think, is nearly a philosophical debate", the singer said. "It can't create something based on a human experience. So I don't know if it meets the definition of art".
"Actors at the moment… there's huge strikes on at the moment. Yeah, a huge part of that is that [AI] can be used to create a product without human labour".
When quizzed about if he would consider striking in protest against AI himself, Hozier replied, "Can I imagine? Yeah. Joining in solidarity if there was action on that? Absolutely".
The 'Take Me To Church' hitmaker, stated that he would take similar action to that of the SAG and WGA in America, who are striking for the first time since 1960.
Along with better pay and protesting against AI, writers are also calling for safeguards against it, following the rise of streaming services.
Check out this chat in full below.
'Can you imagine going on strike about AI?' @vicderbyshire asks Irish singer-songwriter Hozier

'If there was action on that, absolutely'

Tonight @ 10:30pm Hozier speaks to Newsnight ahead of the launch of his new album Unreal Unearthhttps://t.co/P0zxS1DNGF pic.twitter.com/Ej5XLgn0Ku

— BBC Newsnight (@BBCNewsnight) August 17, 2023
Earlier this Summer, Hozier also added a third date at Dublin's 3Arena as part of his World Tour, due to high demand. The singer is supporting his latest album 'Unreal Unearth'.
More on this from Nova here.