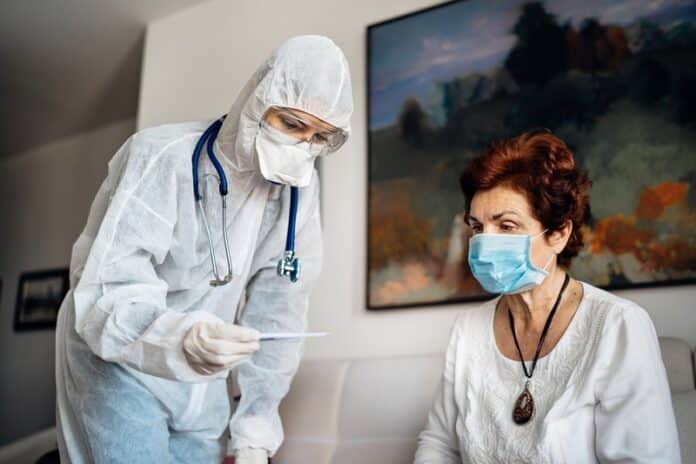 It has been revealed that 369 nursing home residents died as a result of Covid-19 last month.
In total, 1,543 nursing home residents have sadly lost their lives since the pandemic began.
More than one-fifths of the 1,543 deaths occurred in January which shows how deadly the newer strains of Covid-19 are.
Between staff and residents, there was 4,300 cases confirmed in January.
The HSE revealed that 2,000 staff are on leave at the moment due to Covid, which has put the health service under extreme pressure.
Dr Kathleen MacLellan, Assistant Secretary, Social Care Division, Department of Health said "Consistent with the recent and current levels of community infection unfortunately nursing home impacts can be seen, with a fivefold increase in open outbreaks from 34 in mid-December to 193 by the end of January."
Dr MacLellan did note that the levels of infection are down from the levels that were seen in March and April last year which has been put down to the new measures put in place.
According to the HSE, around 32,000 of Ireland's older population live in the 572 nursing homes registered by HIQA with 81% of beds provided by private operators.
National Director, Community Operations HSE Yvonne O'Neill has said that the 2,000 staff on leave which includes close contacts are from 100 house around the entire country.
The current positivity rate from staff testing stands 2.3% which is lower than the transmission rate in the community.
Unfortunately, death tolls at nursing homes around the country continue to rise. Homes in Louth and Galway have seen their numbers rise in recent weeks.
A man at a nursing home in Louth died after receiving his first dose of the Covid-19 vaccine. The man died just after a week when protection from the vaccine is low. His death is not attributed to the vaccine.
At Greenpark Nursing Home in Tuam, Galway, 12 people sadly died from the virus after an outbreak in the home which struck just days before residents were due to receive their first jab.
The staff at Greenpark have done an amazing job at the facility as they were Covid free until January 11.
Speaking to The Irish Times, director Brian McNamara said "We've been Covid free up to January 11. We were devastated when it came when it did… I don't have any words."
Covid-19 has caused havoc in nursing homes in most countries since the pandemic began. At the end of 2020, it was reported that up to 125,000 residents died in homes in the USA.
Ireland has prioritised vaccinating residents and workers in care facilities in its vaccination rollout and Minister for Health Stephen Donnelly has said there will be no Covid vaccine queue jumping. You can read our report on it here.