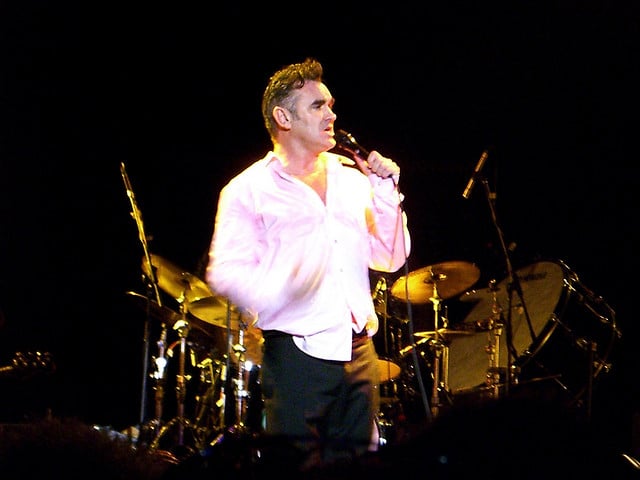 Morrissey announced earlier this week that he refused to play a gig in Iceland because the venue served meat, now the club has come out and rubbished the singer's claim.
Moz was set to perform at Reykjavik's Harpa Concert Hall, however his pro-animal principles were apparently put to the test.
The former Smiths man claimed the Icelandic venue declined to serve only vegetarian food for the night and so the Mancunian protested by not going ahead with the gig.
The news was announced on the singer's fansite True-To-You. The website has almost become Moz's personal TMZ site, with constant news being broken by the singer personally.
Morrissey said: "I love Iceland and I have waited a long time to return, but I shall leave the Harpa Concert Hall to their cannibalistic flesh-eating bloodlust."
But every story has two-sides, the manager of Harpa Concert Hall and the gig's promoter have both fired back at Morrissey's claim.
Speaking about the meat drama, the venue's manager Halldor Guomundsson said that no 'meat-free' request had ever been made and stated that there hadn't even been a date confirmed for the gig.
Guomundsson said: "We were never asked about anything. I was never asked to speak to the restaurants here about whether they would serve meat on the night of the gig. There was no contract or anything. The date mentioned to us was towards the end of March. It's totally his decision, but it was strange for us to read about it on the internet before we were asked about it."
The promoter Lisa Hanson confirmed Halldor's recollection of the story, Hanson said: "We were just starting to look at venues for him and we thought this one [Harpa Concert Hall] would be good. The restaurant there is three floors up on the other side of the venue, it's not like they sell hamburgers right outside. He said he didn't want to play there and we said 'fine'. It was never a date. It was never booked."
No doubt we will hear a retort from Moz in the not to distant future.