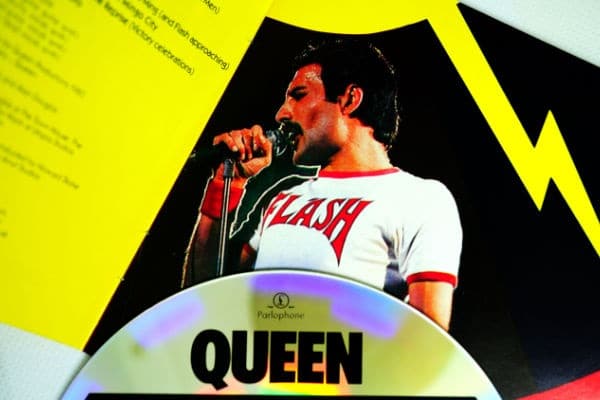 Would you like to listen to the article instead of reading it?
More than 1,400 items which once belonged to the late Freddie Mercury will go on display in London today.
The items will go on display at London's Sotheby's, as part of a free exhibition, which will run until September 5, where they will also go under the hammer.
These items had previously been displayed across Hong Kong, Los Angeles and New York, as part of a Summer long exhibition. More on that here.
"illuminating his personal world"
Speaking about the exhibition, Sotheby's expert David MacDonald said that this unprecedented display gives people an insight into the legend that was Freddie Mercury.
"Never before have we had the privilege of coming so close to illuminating his personal world", he said.
Such keepsakes from Mercury include a crown and cloak worn by the late singer during his final on stage appearance in 1986, expected to sell for £80,000.
His red vinyl trousers are expected to sell for £20,000, while his white "FLASH" t shirt during Queen's 1981 world tour could fetch as much as £80,000.
Freddie's much loved Yamaha G2 Baby Grand Piano, is expected to go for around £3 million. Mercury used that piano to compose the 1975 masterpiece 'Bohemian Rhapsody'.
Freddie Mercury's Yamaha G2 Baby Grand Piano was not only a beloved instrument on which Mercury composed tracks spanning from Bohemian Rhapsody to his final masterpiece Barcelona, but also one that he considered as an extension of himself.

Read more: https://t.co/UrjqGdID0A pic.twitter.com/8wcdahPVao

— Sotheby's (@Sothebys) August 3, 2023
Other items also include a vintage bakelite rotary telephone which Mercury kept beside his bed, is also estimated to sell for between £200,000 and £400,000.
Elsewhere, Freddie Mercury's original art for Type of Beauty, which was illustrated by French painter James Jacques Tissot, is expected to sell for between £400,000 and £600,000.
These items were originally put up for auction by Mary Austin, a close friend of Mercury.