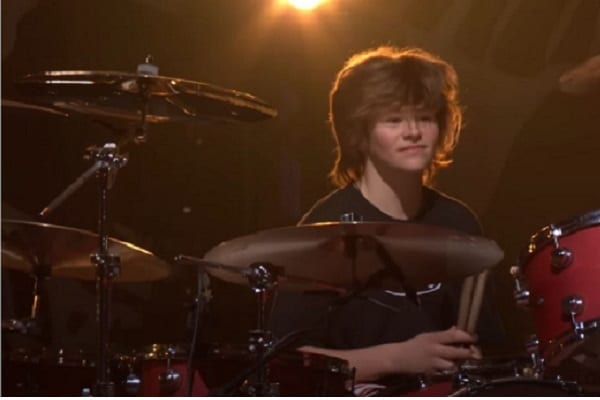 Would you like to listen to the article instead of reading it?
Shane Hawkins, the son of the late Foo Fighters drummer Taylor Hawkins, recently performed at some live shows with his father's covers band Chevy Metal.
The 17 year old tyro, joined Chevy Metal on stage for some of the covers band's recent shows in California, which took place last week.
Hawkins certainly appears to be following in his father's footsteps, as he performed behind the drum kit with the band.
The shows took place in California's Gold Pacific Studios, as well as The Canyon in Agoura Hills on July 27 and July 29 respectively.
Hawkins & Chevy Metal
Chevy Metal are a covers band which were founded by Taylor Hawkins a decade ago. Hawkins performed with the band when he was not with Foo Fighters. The drummer passed away in March 2022.
The shows also included special guest performances from Skid Row's Sebastian Bach, as well as The Cars' guitarist Eliot Easton, Poison drummer Rikki Rockett, as well as drummer Kenny Aronoff, who has worked with John Mellencamp, John Fogarty, and others.
The performances which you can check out below, saw Hawkins and Chevy Metal perform a range of classic tracks, including Led Zeppelin's 'Moby Dick', and Black Sabbath's 'The Wizard'.
They also covered the likes of Thin Lizzy, The Police, The Kinks, and Motley Crue.
You can also see some footage of the band's performances below.
Cara…que vídeo. Taylor Hawkins (falecido baterista do Foo Fighters) e Josh Freese (atual baterista do FF) já tocaram juntos em uma banda. A banda Chevy Metal fez um setlist de cover do Van Halen num festival nos EUA em 2019 e aqui Taylor apresenta…Josh. pic.twitter.com/rTqQJO6Rig

— Teco (@Edukator_Teco) May 25, 2023
Taylor Hawkins, falecido baterista do Foo Fighters, tinha um projeto chamado Chevy Metal, no qual tocava clássicos do rock. Recentemente, seu filho, Shane Hawkins, tocou bateria com os caras. HOLY SHIT. Aqui com Sebastian Bach (Skid Row) tocando You Really Got Me https://t.co/q7Id2r1FOr pic.twitter.com/fFXtW3UoRZ

— Teco (@Edukator_Teco) August 3, 2023
Shane Hawkins has been making a name for himself, having also been awarded at the Drumeo Awards back in February, for his wonderful on stage tribute to his father.
The teenager landed the award for 'Performance Of The Year', thanks to his moving drum cover of 'My Hero' at Wembley Stadium at Taylor Hawkins' Tribute Concert.
This performance also caught the eye of The Police's Stewart Copeland.
"I started crying. He's got it. He's got such power, enthusiasm", Copeland said.
The drummer added, "He's got his father's stance, musical language. That was really emotional to see young Shane up there".
Check that out here.