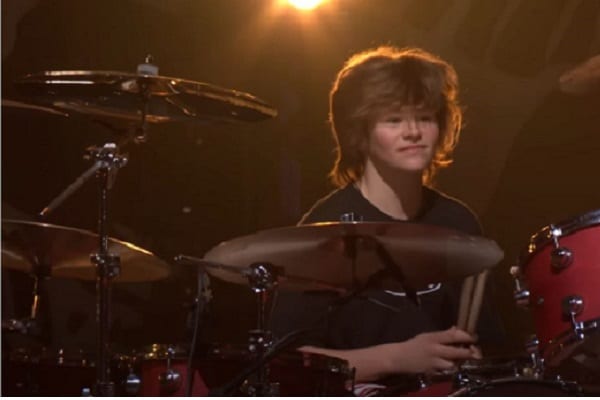 Shane Hawkins the son of the late Foo Fighters' drummer Taylor, has been recognised at the annual Drumeo Awards.
The youngster has been awarded for his performances at the tribute concerts held in his father's honour in London and LA last September.
The awards also include 15 categories, nominated 75 drummers, representing 16 different countries.
Shane Hawkins won the accolade for 'Performance of the Year' for his role as sticksman for Foo Fighters' live covers of 'My Hero' at Wembley Stadium, as well as the band's performances of 'I'll Stick Around' and 'My Hero' at LA's Kia Forum in California.
See more below.
"He's got it" – Hawkins Praised For His Performances
Shane Hawkins' performances also caught the eye of other musicians.
Former drummer for The Police, Stewart Copeland lauded Hawkins for his exploits at the two shows.
"I started crying. He's got it. He's got such power, enthusiasm", he said. "He's got his father's stance, musical language. That was really emotional to see young Shane up there". 
The awards were live streamed last month, and also mark the culmination of a voting process, which took place in December.
Other drummers recognised on the night also include Red Hot Chili Peppers' sticksman Chad Smith, who won Drummer Of The Year.
Smith was recognised for his work with the band, along with live performances with Iggy Pop, Ozzy Osbourne and Travis Barker.
Barker himself earned the Best Rock Drummer gong for his role with the band.
Last month, Foo Fighters' announced their first set of live shows since Hawkins' death.
The band will headline this year's Bosting Calling Festival. They will also headline Columbus' OH's Sonic Temple festival on May 28, along with Bonnaroo on June 18.
"We will be headlining @bostoncallingFriday, May 26th. Presale tickets go on sale beginning Thursday, January 12th at 10am ET", they said.