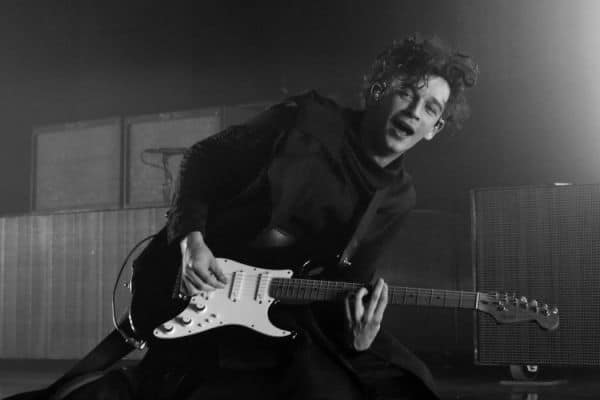 Matt Healy has called on the long time estranged Gallagher brothers to "grow up" and reform Oasis.
The 1975 lead singer made these comments when speaking to Q With Tom Power, which was aired by the Canadian Broadcasting Company.
Towards the end of the chat, Healy was asked by host Power about what he was particularly proud of regarding The 1975's achievments since their formation in 2003.
In response, Healy said that he was thrilled that "as men", the band have always "mediated [their] tensions by being very tactile, very open and very silly".
"a mard with your brother"
It was at this juncture that Healy turned his focus to other bands such as Oasis who seem to "get so serious" over issues which are "not that complicated".
"What are Oasis doing?" he added. "Can you imagine being in potentially – right now, still – the coolest band in the world, and not doing it because you're in a mard with your brother?".
The singer whos parents are actors Denise Welch and Tim Healy, had one very succinct message for the estranged brothers Noel and Liam Gallagher, and that is "Grow up and headline Glastonbury". 
While he can accept the estranged brothers "dressing like they're in their 20s and being in their 50s", Healy insisted that there is no excuse for "acting like they're in their 20s". 
"They need to grow up," he insisted "They're men of the people, and they're sat around in, like, Little Venice and Highgate, crying over an argument with their brother. Grow up! Headline Glastonbury! Have a good time! Have a laugh!".
After Oasis split up in 2009, Noel and Liam Gallagher have enjoyed successful solo careers.
However according to Healy, those solo careers do not hold a candle to Oasis' legacy in the music world.
 "There's not one kid, not one person, going to a High Flying Birds gig or a Liam Gallagher gig that would not rather be at an Oasis gig", Healy stated.
"Do me a favour: Get back together, stop messing around. That's my public service announcement for today". 
Last month, Noel Gallagher hinted that an Oasis reunion could be on the cards, as himself and Liam have been getting on "brilliantly" recently, having been at loggerheads with each other ever since Oasis split up after the pair had fallen out.