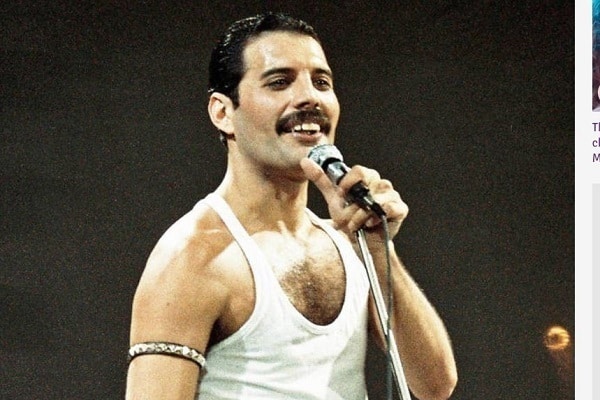 Would you like to listen to the article instead of reading it?
A private collection of art, artefacts and music related memorabilia which belonged to the late singer Freddie Mercury, will be exhibited at four locations across the world this Summer, before going under the hammer in September.
Among the items being auctioned off include the iconic Mercury waistcoat, which was last seen in the video for 1991's These Are The Days Of Our Lives, the last he shot with the band  (£5,000–7,000).
Other items include handwritten lyrics for the classics Killer Queen (£50,000–70,000) and We Are The Champions (£200,000–300,000), along with Freddie's iconic crown and cloak (estimated to fetch £60,000–80,000), and the Martin D-35 Acoustic Guitar believed to be used in the composition.
For those that are feeling particularly flush, Freddie Mercury's original art for Type of Beauty, which was illustrated by French painter James Jacques Tissot, is expected to sell for between £400,000 and £600,000.
Elsewhere, a vintage bakelite rotary telephone which Mercury kept beside his bed, is also estimated to sell for between £200,000 and £400,000.
More information can be found here.
"very special chapter in my life"
These items are also being auctioned off by Mary Austin, a long term friend of Mercury.
"For many years now, I have had the joy and privilege of living surrounded by all the wonderful things that Freddie sought out and so loved", she said. "But the years have passed, and the time has come for me to take the difficult decision to close this very special chapter in my life". 
She also added, "It was important to me to do this in a way that I felt Freddie would have loved, and there was nothing he loved more than an auction". 
"Freddie was an incredible and intelligent collector who showed us that there is beauty and fun and conversation to be found in everything; I hope this will be an opportunity to share all the many facets of Freddie, both public and private, and for the world to understand more about, and celebrate, his unique and beautiful spirit".
"still move around and astound us"
A touring exhibition of sale highlights will also visit New York, Los Angeles and Hong Kong.
The full collection will take place in Sotheby's London between 4 August and 5 September this year.
Speaking on this exhibition, Sotheby's Europe chairman Oliver Barker had this to say.
"Freddie Mercury's sensational life has left us with a rich array of artistic moments that still move and astound us, a legacy that, like his music, will live on forever", he insisted.
"As Sotheby's is transformed into the stage for this remarkable collection, the focus will be as much on Freddie Mercury the showman, celebrating everything we already know about him, as on discovering his less well known private artistic passions". 
He also added, "Fittingly lavish in scale, the auction will bring together the expertise of specialists from 30 different collecting categories, and see exhibitions held in four locations across three continents – all culminating in the longest, most spectacular, public exhibition in our company history. How else could we celebrate the legend that is Freddie Mercury?".
You can also check out the details below.
Freddie Mercury Collection exhibition dates
Sotheby's New York
June 1-8
Sotheby's Los Angeles
June 14-18
Sotheby's Hong Kong
June 26-30
Main Exhibition, Full Collection Sotheby's London
August 4 – September 5
Freddie Mercury Collection Auction Dates
"The Evening Auction"
London Live Auction, 6 September, 5pm (ticketed event)
"On Stage"
London Live Auction, 7 September, 12 noon
"At Home"
London Live Auction, 8 September, 12 noon
"In Love with Japan"
Online Auction, 1 – 11 September, 12 noon
"Crazy Little Things"
Part One Online Auction, 1 – 12 September, 12 noon
"Crazy Little Things"
Part Two Online Auction, 1 – 13 September, 12 noon
This auction also comes as a daring pair of "Hotpants" worn by Mercury were also sold recently. Find out more here.