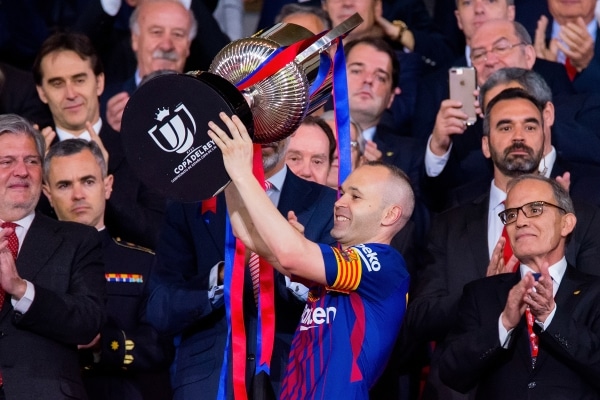 Barcelona midfielder Andres Iniesta has confirmed that he'll leave the club this summer after nearly 700 appearances for Los Cules winning 31 major trophies with the league on the way.
The Spanish World Cup winner from 2010 is expected to move to the Chinese Super League. He has spent 22 years, man and boy, with the Catalan giants.
He turned pro in 2001 having come through the ranks at the famed academy La Masia close to the Camp Nou in Barcelona.
He has won eight La Liga titles with the club and four Champions Leagues, and scored the only goal as Spain beat Holland to win the 2010 World Cup in South Africa.
In a press conference today he said: "This is my last season here." "I want to thank my team-mates," he said. "My only aim was to be a success at this club and I have done that."
As for his future the diminutive genius said: "There are still things to be sorted," he said. "I have said I will never play against Barça, so I won't play in Europe."
He has been rated by the likes of Cristiano Ronaldo, Lionel Messi, Luis Suarez and Paul Scholes as one of the greatest footballers of all time. This is the thinking fan's footballer with a thinking fan's football book.
Shortly after he joined the club, Barca legend Pep Guardiola remarked of him, 'This lad is going to retire us all.' Iniesta rapidly became a permanent fixture in the Barca midfield, propelling the club to a raft of trophies, including eight La Liga championships and four Champions League titles.
With his country he has won the European Championship twice, and scored the winning goal in the 2010 World Cup final as while wowing the public in Spain and beyond with his wonderfully graceful passing and movement, and the accolades and trophies he has garnered.