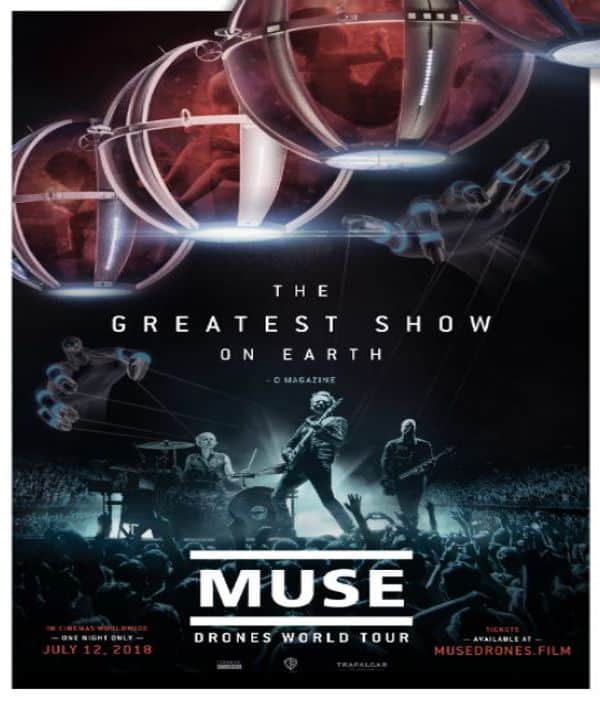 Muse have revealed details of their brand new live show movie for their Drones World Tour. What is arguably one of their most ambitious live productions so far, the movie was shot at a number of the band's stadium shows for their album Drones during 2016.
Marty has all the details, and a preview in today's Seriously Addictive Music News. Watch it here:
https://www.facebook.com/radionova100/videos/10155664893793667/
It's the latest in Muse's history of acclaimed live concert films, the Drones World Tour film will feature 'never-before-seen special effects, perfectly complimenting the awe inspiring level of creative stage production Muse fans have come to expect, ensuring the ultimate audio / visual sensory experience'.
Speaking about the concept, lead singer Matt Bellamy said, 'The symbiosis between humanity and technology has always been something I am interested by. Drones just seem to be a very interesting modern metaphor for what that represents…You want to leave people with the idea that they ask the question themselves about the role of technology in our lives and whether it's a good thing or a bad thing.'
Marc Allenby, CEO of Trafalgar Releasing said of the upcoming film, 'We're delighted to be working on this innovative and unforgettable show from Muse, a group that time and again illustrate that they are one of the world's best live bands. The concert film deserves to be seen in the best possible way, in cinemas on the big screen together with other Muse fans. We look forward to collaborating with the band, their management team and label across this release.'
Drones World Tour will be released in cinemas worldwide on July 12th for one night only. Tickets will be made available on May 3. For tickets and information relating to screenings go here.
Feature Image: Muse 'Drones World Tour': Press