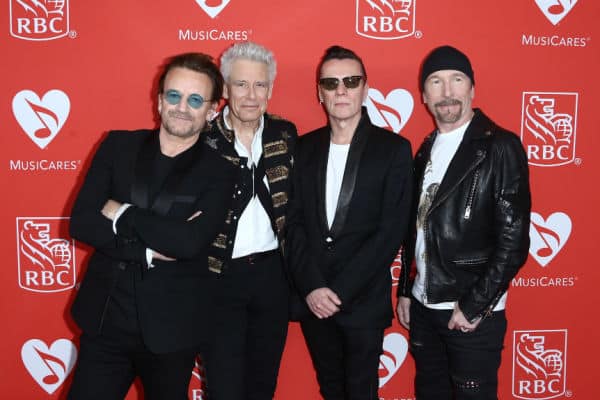 Would you like to listen to the article instead of reading it?
'Songs Of Surrender' the latest album to be released by U2, is currently selling more copies than the rest of the chart's Top Five combined.
Arriving last weekend, 'Songs of Surrender' is set to become the band's 11th number one album.
The album features a set of "reimagined" versions of iconic U2 hits, including 'With or Without You', and 'I Still Haven't Found What I'm Looking For' to name a few.  More on this here.
Should this album peak at number one, it would mark U2's first number one since 2009's 'No Line On The Horizon'.
The last decade has seen U2 reach the album chart top 10, with consecutive releases 'Songs of Innocence', and 'Songs of Experience'.
Elsewhere, the band's greatest hits album 'U218 Singles' also returned to the chart, reaching the top 40 for the second time.
"Guitar driven"
Earlier this month, U2 guitarist The Edge revealed that the band were keen to release a "guitar driven" album in the future.
"As soon as possible", he said when asked about the band's plans to release a new album.
He added, "But, of course, that's just who I am. I think Bono is of the same ilk. We're anxious and would love to get them out, but there will be a lot of options and other advice we'll be taking about when to drop some new material. But just to say, we've been busy and very inspired creating new stuff". More on this here.
In a separate interview, The Edge revealed why U2 chose the MSG Sphere as their venue for their upcoming Vegas residency later this year.
Performing a set of shows this Autumn, U2 are to become the first band to perform at this venue in the process.
"I don't think we would be considering playing in Vegas if it was just any regular residency", The Edge said. "This is a state-of-the-art venue that doesn't exist anywhere else in the world".