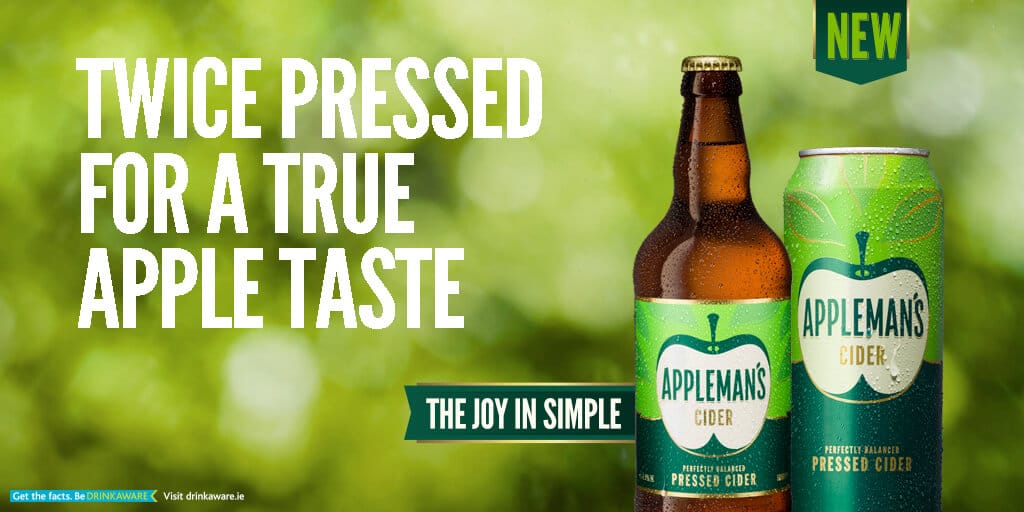 While the warmer weather is still to come to Ireland, a brand new cider that's perfect for outdoor enjoyment, Appleman's, has arrived!
This beautifully simple, perfectly balanced, cider arrives in 1,500 pubs and 1,000 off-licences across Ireland over the coming days, and weeks.
Developed by HEINEKEN Ireland, the company behind Orchard Thieves, Appleman's is specifically developed to respond to Irish people's taste preferences and is only available in Ireland.
Twice pressed, by Fourth Generation Cider Masters, this exciting new cider offers a true apple taste – not too sweet and not too dry.
Emma-Jane McKeown, Appleman's Senior Brand Manager, said; "With the support of our Cider Masters, we are really proud to have developed Appleman's exclusively for Irish people's taste preferences – striking a perfect taste balance that's inspired by nature. We've been working on Appleman's  for a while now and we're really excited for people to try it. "
Appleman's has an ABV of 4.5% and is available on draught, in 500ml cans and 568ml and 500ml bottle.
For more, check out www.applemanscider.ie or find Appleman's on Facebook: ApplemansciderIE
Enjoy Appleman's responsibly. Visit www.drinkaware.ie