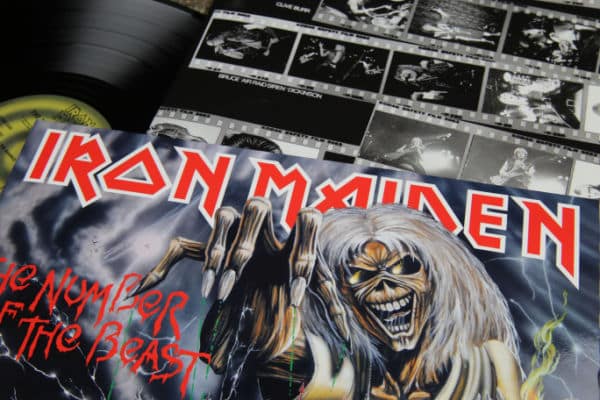 Iron Maiden are to be honoured with a set of postage stamps from British Royal Mail.
Bruce Dickinson and co have become the latest band to be honoured in such a special way, joining the likes of Pink Floyd, Elton John, The Beatles, Queen and David Bowie.
Last year, British Royal Mail also honoured The Rolling Stones with a special set of stamps, marking the 60th anniversary of the band's formation.
Arriving on January 12, the stamps are to depict Iron Maiden over the years. With eight of the 12 stamps showing the band performing, the remaining four will depict Iron Maiden's mascot Eddie.
IRON MAIDEN To Be Honored With Royal Mail Stamps – https://t.co/4FF4Rv2hex – #guitar #music –
Britain's Royal Mail is celebrating IRON MAIDEN with a set of postage stamps.
Due for release on January 12, the stamps depict the British heavy metal legends over the decades. Eigh… pic.twitter.com/3tqxOnZbZn

— Planet Six String (@planetsixstring) January 4, 2023
Having sold over 100 million records worldwide, and performed at more than 2,000 shows in their time, along with releasing 17 studio albums, it would certainly take a brave human being to question the legacy of Iron Maiden as rock legends.
The band has previously been honoured with their own colouring book, Marvel merchandise, craft beer, beer cooler, and even football merchandise!
Iron Maiden have yet to show any signs of slowing down, with a the band set to embark on their "The Future Past" Tour, which will kick off in Krakow, Poland on 13 June 2023, beforing finishing off in Manchester's AO Arena at the end of that month.
This tour also includes a live performance at Dublin's 3Arena on June 24.
This tour will feature live covers from their latest album 'Senjutsu', which arrived last year.
Iron Maiden Announce First Shows of 2023's The Future Past Tour!

Jun
13 Tauron Arena, Krakow, POL
19 Hallenstadion, Zurich, SWI
24 3Arena, Dublin, IRE
26 Ovo Hydro, Glasgow, SCO
28  First Direct Arena, Leeds, ENG
30 AO Arena, Manchester, ENG pic.twitter.com/bIZIeM9mQH

— Iron Maiden (@IronMaiden) October 6, 2022
The Kids Are Alright 
Speaking of Iron Maiden, the son of their guitarist Janick Gers has joined forces with Noah Yorke, the son of Radiohead's Thom Yorke to release a brand new single.
The new single 'Red Skies', arrived on December 2.
"I can't wait for all of you to hear this, I'm truly more excited with this than anything I've done in my life", Dylan Gers (Janick's son) has said of the track ahead of its release.
This track was also second single released by Dylan Gers, with 'Moon Rise' arriving last April. You can check out more on this story from Nova here.