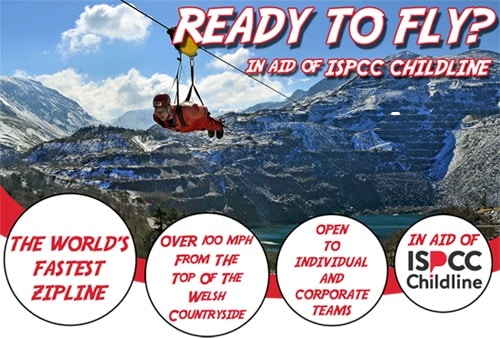 An exclusive opportunity to soar through the skies at speeds in excess of 100mph is set to be presented in aid of national children's charity, the ISPCC.
The exhilarating prospect of hurtling over scenic Snowdonia, Wales, has already piqued the interest of charity supporters with a thirst for adventure. Taking place on Saturday April 21st, this day trip with a difference will see participants take on Zip World Velocity: the fastest zip line in the world and the longest in Europe.
Those taking part will travel by ferry to Holyhead on the day, before being taken by coach to begin their adventures. After completing Little Zipper, a line to build confidence, participants will ascend Penrhyn Quarry towards the Big Top of Velocity. This is where the pulsating fun starts!
Darragh Berry, who seized the opportunity to try the Big Zipper line on a preparatory trip, said: "the experience for me was fantastic. I'm not normally one to do those type of things and although it scared me a lot at the time, it was something that I was so happy I did. I'd definitely recommend anyone to try it and this trip is all in aid of such a deserving cause."
By taking part in this adventure of a lifetime, 'zippers' will help to raise vital funds for the national child protection charity. The ISPCC delivers innovative child-centered services, including Childline, in a number of locations throughout Ireland. As Ireland's only 24-hour listening service for children and young people, Childline provides free, confidential and non-judgmental support. Those taking part will be asked for a deposit of €150 to secure their place on the trip and to fundraise €500 in support of the ISPCC's work.
Whetting appetites further still, participants on the day will also have the opportunity to experience the thrilling Zip World Forest Coaster set in the idyllic Conwy Valley.
With excitement mounting for this delightfully daring day, prospective participants are encouraged to register their interest early to secure their place on the trip.
For more information and to register ….
https://www.ispcc.ie/get-involved/upcoming-events/readytofly-zipline-challenge-in-aid-of-ispcc-childline/16331 or ispcc.ie.