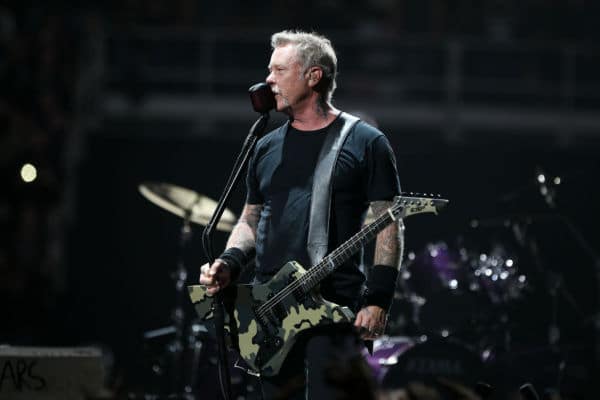 James Hetfield has urged fans not to interact with online scammers who are pretending to be him on social media.
Hetfield who does not use social media personally, used the official Twitter account to issue a stark warning to fans.
"There are people online that have assumed my identity, spreading misinformation, and have caused damage to other people. There are imposters and predators out there", Hetfield said.
"out of my control"
"This is out of my control, but it is in your control who you choose to connect with. Please be careful on socials and vet people before getting in contact with them". 
He continued, "To be clear…I am not on any social media forms, Facebook, Instagram, etc. The only connection I have with social media is through the official Metallica website and official Metallica socials". 
"If you are following or communicating with someone who you think is or is portraying themselves as me… it is not me. I hope this helps those who have been or are getting deceived and are ashamed to talk about it".
"With love and respect, James 'Papa Het' Hetfield". 
Papa Het would love you to read this… pic.twitter.com/UPYamfaTY8

— Metallica (@Metallica) January 14, 2023
Elsewhere, James Hetfield's bandmate Kirk Hammett claimed that "toxic masculinity" helped to sustain Metallica as a band.
Hammett also revealed that Hetfield used to antagonise fans during shows in the early days.
"Toxic masculinity has fuelled this band", he said."I'm still sitting around saying, 'OK, I'm gonna write a really, really tough, kick-ass riff'. Just look at my rhetoric there: tough, kick-ass riff. It's an aggression that everyone feels, but it was ratcheted up in us – this weird masculine macho bullshit thing". 
Regarding his social life with the rest of the band, Hammett also added, "We would get drunk, and just start in. I remember once James got up and pushed Lars [Ulrich, drummer], and Lars literally flew across the room".
"We would see each other and start wrestling. We could be in a room of twenty people and we'd fixate on each other. No one else mattered". 
More on this from Nova here.