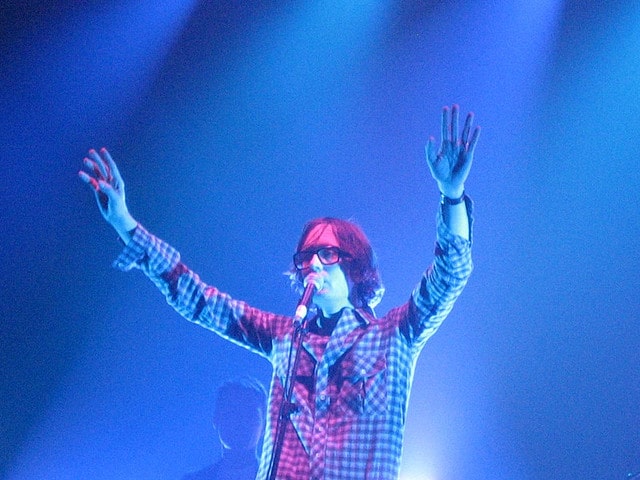 Pulp's frontman Jarvis Cocker famously penned a tune about the class issue for the track 'Common People', now he has entered the ongoing debate in music about class.
The singer says it is time for the back and forth between Kasabian and Sleaford Mods to end, saying "Let's get over that and move on."
In an interview, Kasabian's Sergio Pizzorno bemoaned the fact that they had been snubbed by the Brits and discussed the negative impact it has on other young working class rock acts trying to make it.
Speaking to The Independent, Pizzorno said: "It's a conspiracy, they're trying to shut rock n' roll out of [the Brits]. What sort of message does that send to working class rock 'n' roll bands which the industry is in dire need of?"
In response, Sleaford Mods' singer Jason Williamson told Gigwise: "I heard that on the radio, I flew into a f**king rage. It really pissed me off, y'know, all these c**ts playing the working class card. They said goodbye to their roots a long time ago. F**k off."
He added: "What are they saying about the younger generation? What are they saying about the working class? What have they ever said about the working class? Nothing, f**k off. It's like Gallagher, he's the same. Playing up to the working class thing – he still thinks he's working class. No, no no no no – it doesn't work like that mate."
Noel Gallagher was recently complaining about the fact that more working class bands have not emerged, following the success of Arctic Monkeys and Kasabian.
Noel said: The working classes have not got a voice anymore, there doesn't seem to be a noise coming from the council estates, you know what I mean?"
"Music is very middle class, I'd have eaten Bastille alive in an afternoon in the '90s, one interview, destroyed, gone, never to be heard of again. Easy, had 'em for breakfast.
"When I first started I wanted to get in the charts and wreck it, like stamp Phil Collins out and Wet Wet Wet, they've got to go, and all that '80s gear, we don't need that anymore. I don't see anything from the working class, I just don't see it."
Now Jarvis wants to end the fighting, during his acceptance speech for best music film at the NME Awards, Cocker said: "A long time ago, last century, we made a record and it was called Different Class. It wasn't called Working Class, and it wasn't called Upper Class and it wasn't called Middle Class. It was called Different Class because, let's get over that and move onto something else. OK?"