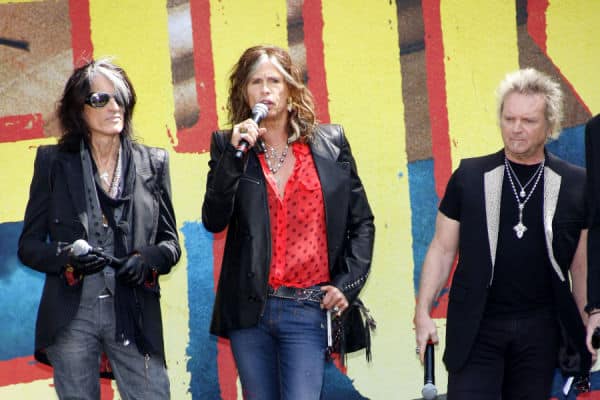 Would you like to listen to the article instead of reading it?
Aerosmith's Joe Perry has stated that the band will tour later this year.
The guitarist made this comments without sharing too many specifics regarding these tour plans. However, He did say that this tour was planned for this Fall.
Last year, Aerosmith were forced to cancel a planned Vegas residency due to the ill health of their frontman Steven Tyler.
"It is with great disappointment that we are forced to cancel tonight's show in Las Vegas due to Steven feeling unwell and unable to perform", the band said at the time. 
"it's gonna start"
Confirming news regarding the band's upcoming tour plans, Joe Perry said this.
"We are gonna announce the tour and it's gonna start in September and will go into next year", Perry stated. "And, being one of the guys who votes on this kinda thing, it looks like we're gonna do it".
Joe Perry was asked about the potential involvement of drummer Joey Kramer in this tour. Kramer had stepped away from the band over recent years due to injuries and personal reasons.
Last July, Kramer's wife Linda passed away. She was described as the "love of his life". 
"That's probably one of the hardest things. Drumming is probably one of the most athletic parts of playing in a band, so it's really hard", Perry revealed.
"It's been, mostly because physically, [Joey has] just been beating himself up over the last 50 years. So, I don't know. I mean, he's still officially a member of the band. But I don't think he's gonna be sitting behind the drums, at least for this next run". 
Elsewhere, Joe Perry insisted that the tour is at the forefront of focus for Aerosmith. But he did add that the band still contain a pile of unreleased material.
"At this point, I can't say. I really don't know," Perry said when asked about Aerosmith releasing new music.
"But I know that we have a pile of material that hasn't been released. So I think that we're focusing on that right now. But the main thing is just getting this tour up and running". 
As for Perry himself, the guitarist is embarking on a tour with his band The Joe Perry Project, with a new album to be released soon, as well as featuring on an upcoming tribute show for the late Jeff Beck.