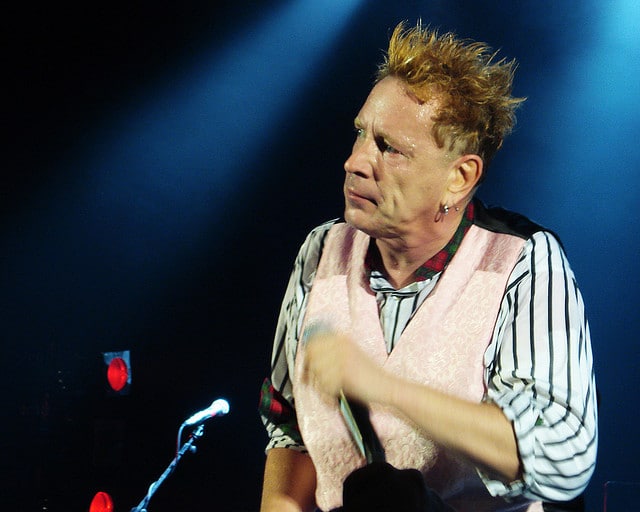 Sex Pistols singer John Lydon has a new memoir out and has been speaking about different aspects of his life featured in the book.
The punk pioneer discussed his childhood, politics, Jimmy Savile and former band member Syd Vicious.
It has nearly been 40 years since the Sex Pistols took the music scene and general society by the scruff of the neck and shook them to the core.
John Lydon hasn't lost any of his rebellious or outspoken streak. Promoting his memoir 'Anger Is An Energy', he talked about bassist Syd Vicious. "He didn't stand a chance. His mother was a heroin addict. I feel bad [that] I brought him into the band. He couldn't cope. I feel a bit responsible for his death."
In an interview with Channel 4's Jon Snow, the iconic frontman revealed his insights into the dark sex crimes of Jimmy Savile.
"All of us … What we call 'the people' knew what was going on… It was common knowledge but it wasn't common knowledge in the media. I have no doubt that some of the performers [of the era] were [also] messing around with under aged girls but that wouldn't have been my way. I've always perceived myself as a victim so I'm always there for the disenfranchised."
Lydon also got very emotional talking about his childhood. "I've had problems from childhood and the book deals with that. Now when I recovered, for instance, from Meningitis – if you can call it recovery, it took me four years to get my memory back."
"The pain you go through of not remembering your own parents. It took a lot out of me to have to go back into my childhood and face that pain and thereby really regurgitate the death of my parents and the lonely isolationism of that.
"And I don't think I've ever made up to my mum and dad and they're dead now and it breaks my heart. I've never made up [to] them for the fact that I forgot who they were, Lydon said."
Watch the John Lydon interview with Jon Snow below.