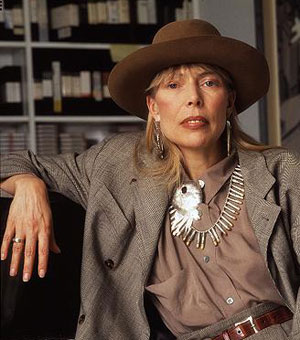 Joni Mitchell is not in a coma and is expected to make a full recovery.
The 71-year-old legend has been in hospital for the past four weeks after being rushed in by ambulance from her home in LA at the beginning of the month.
Fans of the 'Big Yellow Taxi' singer were worried when Mitchell ended up in intensive care, and now there have been reports she has slipped into a coma and became unresponsive.
Joni Mitchell's reps have made a statement, via www.jonimitchell.com responding to rumours her friend, Leslie Morris, who's with her in hospital, has taken control of her well-being as she's unable to do so herself.
But the statement from Joni's people says this is not the case:
"Contrary to rumors circulating on the Internet today, Joni is not in a coma. Joni is still in the hospital – but she comprehends, she's alert, and she has her full senses. A full recovery is expected. The document obtained by a certain media outlet simply gives her longtime friend Leslie Morris the authority – in the absence of 24-hour doctor care – to make care decisions for Joni once she leaves the hospital. As we all know, Joni is a strong-willed woman and is nowhere near giving up the fight. Please continue to keep Joni in your thoughts."
Fans are being asked to wish her well at www.WeLoveYouJoni.com. It's still not clear what Joni is suffering from, but we're certainly glad to hear she's expected to make a full recovery.
Check out one of her most famous songs…