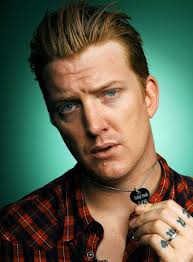 Queens of the Stone Age front man Josh Homme pushed a stage invader back into the crowd and had some tasteful words of wisdom for the unfortunate stage crasher.
The incident happened at the band's show in Florida last week. Homme pushed the man back into the crowd, and said to audience cheers:
"Don't do that… I don't know what you're trying to do. You're lucky I didn't fuck you up, bro. I'm here to play for you, not jerk you off, you fucking douchebag".
Some fan footage of the incident was shot at the concert which can be seen here.  As you'd expect the quality isn't great but still well worth a watch.