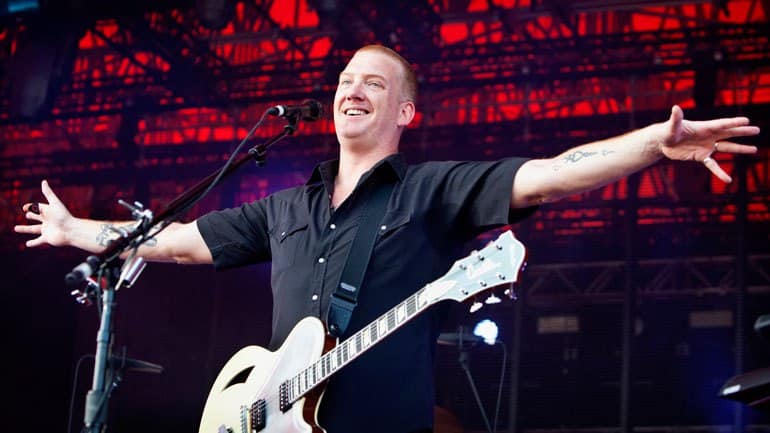 QOSA frontman, Josh Homme has shared a moving correspondence between Anthony Bourdain and Homme's daughter. You can read Bourdain's whole letter below.
The Queens Of The Stone Age singer was good mates with the celebrity chef and TV host Anthony Bourdain. Homme guested on an episode of Bourdain's Travel Channel series No Reservations back in 2011. Homme also wrote the theme song for his later CNN show Parts Unknown with former Screaming Trees frontman, Mark Lanegan. Bourdain passed away tragically by suicide in June and Homme paid tribute to his 'brother' in a social media post and dedicated a performance of 'Long Slow Goodbye" to the chef at Denmark's NorthSide Festival to Bourdain.
Now the rocker has taken to social media to remember Bourdain once again. Boudain's show No Reservations featured Homme in an episode. Set in the Californian Desert, there's a scene where Bourdain walks up to Homme while he's playing the guitar. He then takes and smashes the guitar against a tree. Homme's daughter Camille aged 5 at the time, saw the promo for the show and got upset at the axe vandalism. Bourdain wrote Camille a letter by way of apology.
Homme took to Twitter to recount the story, 'Tony, I miss you bad. Once Camille was so mad at you. She was defending me. & So were you. Defending me. As we had done & would do many times over the years for each other. & you, with great care, such empathy, such sweetness… you apologized to a little girl who was defending her daddy.'
Tony, I miss you bad. Once, Camille was so mad at you. She was defending me. & So were you. Ariane, this was your father. Humbly yours, Joshua pic.twitter.com/sR3mwO5WBI

— QOTSA (@qotsa) June 29, 2018
Homme then shared Bourdain's apology letter, 'You saw me take Daddy's guitar and smash it against a tree and I'm sure that was upsetting," Bourdain wrote, explaining that the promo was a "not so subtle" reference to Animal House. "Know that that was in fact not really Daddy's guitar, and that we were both just playing around. Daddy would have been very angry were I to do such a thing — and as he is a large man, I would not still be here to write this letter. I like your Daddy very much. We are friends. Your Daddy was very nice to let me and my camera crew hang out with him all week at his favorite places and to make totally awesome music for us.'