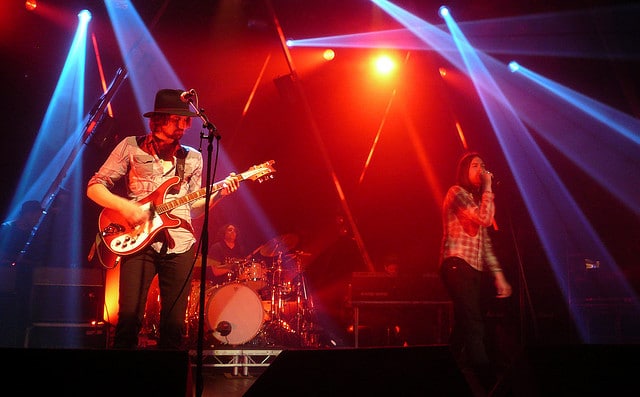 English rockers Kasabian ran in to some technical difficulties with their visuals during a concert in Glasgow the other night.
It was the opening night of their UK arena tour at the SSE Hydro venue, on the giant screen behind the group, an offensive phrase appeared in giant letters.
Kasabian were half-way through the song 'Clouds', when an image of a locked door popped up on the screen, with the words 'London is full of c**ts' scrawled on it.
It undoubtedly went down very well with the enthusiastic Scottish crowd but not so well with the band's southern fans.
In a statement issued to NME, the Leicester lads said the image appeared in error, and its presence during the gig had nothing to do with anyone from the group.
Guitarist Serge Pizzorno said: "We were as shocked as anyone else. The production team f**ked up. There were supposed to be photos of mundane objects in that section but instead I turned around in the middle of 'Clouds' and couldn't believe my eyes."
"We were all shocked and certainly didn't mean to offend anyone."
Pizzorno added: "I hope this doesn't detract from the gig itself, which was probably the most amazing one we've played all year."
Kasabian play Dublin's 3 Arena on December 8th, tickets are still available from €36.00.