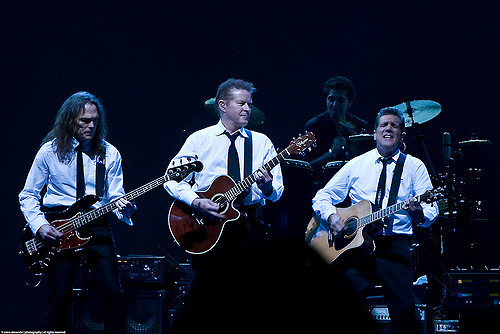 The Kennedy Center has said that former members of the Eagles will not be honoured with the rest of the band later this year.
The centre was responding to a petition set up on change.org, calling for former Eagles members Don Felder, Bernie Leadon and Randy Meisner to be honoured along with the rest of the band. The petition, which received 10,301 signatures, was discussed with current band members before it was denied.
In a statement on behalf of the Kennedy Centre, President Deborah Rutter said   "The Kennedy Center consulted with the Eagles and through that discussion, it was determined that the four band members who 'carried the torch' — Don Henley, the late Glenn Frey, Timothy B. Schmit, and Joe Walsh — will be awarded the Honors. We appreciate that there will be some debate about who constitutes the Eagles. This determination does not discredit the contributions of former band members."
Brandon Butler, who started the petition, has asked that Don Felder, Bernie Leadon and Randy Meisner be invited to the ceremony, saying "so they can feel a sense of pride and accomplishment watching the tributes from their fellow artists," The petition has now been closed, with Butler explaining "Having received an answer, he has closed the petition knowing that "the Kennedy Center heard every single one of us loud and clear."
The Eagles will receive the honour at a ceremony in December. The band previously had to postpone receiving the award in 2015, while Frey had major surgery. Frey passed away at the beginning of this year.
Photo Cred: Steve Alexander