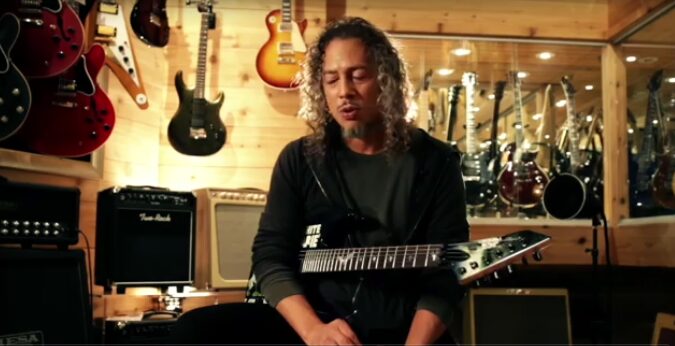 We have a Hammett double whammy today.
Last week we had an article on James Hetfield being interviewed at guitar centre San Francisco. Well, not to leave Kirk Hammett out of the equation, we now have an interview with Kirk at guitar centre too.
In this interview he talks about his motivations as a young musician, his affinity with guitars, movies, his influences, and the traits needed to succeed.
In the beginning of the interview he says his main motivation as a young musician was:
"wanting to play the guitar well" simple as that!
He goes on to talk about the first time he seen the Hendrix movie. Coming home to a guitar he had in his closet, and saying to himself:
"Ok im gonna learn how to play you" and recalls it as being a very distinct and motivating time in his life.
He bangs out a trademark riff and explains how it was one he made up when he was just sixteen years old. The significance of this riff becomes evident as he seems to get a little emotional while talking about it.
"I have a soft spot in my heart for that riff".
It seems that Hammett and Hetfield share some of the same characteristics when it come to playing music. They both talk about the "zone" about how playing music seems to be able to calm them down or take them out of a bad mood.
"Being in that zone is so amazingly healthy for me, and for me, its a bit rejuvenating, it brings me to a place that rejuvenates me, and can inspire me even more".
"There are times that I am feeling really crappy or I am in a bad mood and I pick up my guitar and I start playing, and I am just, instantly just transformed, somewhere else, just totally brought to a better place, and I love the guitar for that reason".
Check out the interview here