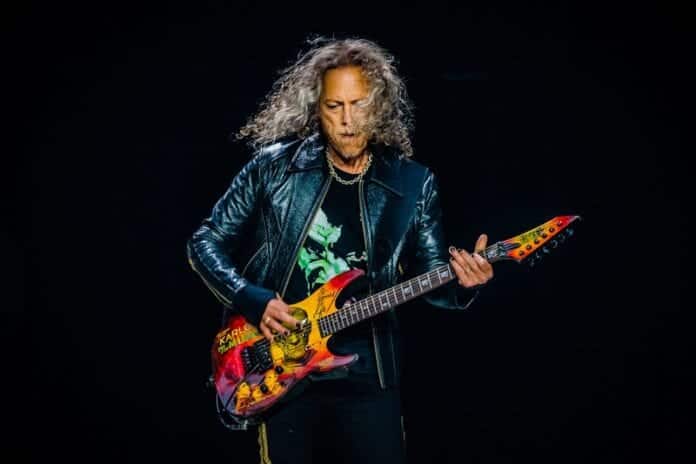 Metallica guitarist Kirk Hammett is to feature on Carlos Santana's new album entitled 'Blessings And Miracles'.
Speaking to ABC News Radio, Santana said, "My brother Kirk Hammett from Metallica is playing [on it]. He's tearing it up."
Hammett and Santana have a long history. The Metallica guitarist featured on Santana's 2005 track, 'Trinity' and Hammett also featured on the latest album from Carlos' wife, Cindy Blackman Santana entitled 'Give The Drummer Some'.
Speaking in the early 90s about their relationship, Hammett said, "To be trading off with him onstage was musically spiritual. We've traveled along similar lines; we're both from the Mission District, [and] we both play guitar."
Other guests reportedly set to feature on Santana's new album are Steve Winwood and Corey Glover of Living Colour.
It's been a busy time for Kirk Hammett as he also announced he is releasing a coffee that is inspired by Fleetwood Mac's Peter Green 'Greeny' guitar.
Hammett is teaming up with the Muddy Waters Coffee Company to create the new dark roast blend that is 100% organic and fair-trade certified.
The Greeny Blues Blend will be released as a limited-production run, with only 2,500 available at launch.
This isn't the first time Hammett has released a coffee. In 2017, he joined forces with Dark Coffee Matter and Dave Kakron to produce the Ghoul Screamer coffee which was an El Salvadorian blend.
In a video posted on his Twitter to announce the news, Hammett said, "Every morning I want to wake up with the confidence that I'm going to be starting my day with coffee that holds quality in both taste and caffeination."
You can check out the video below.
More details soon! #muddywaterscoffeecompany #greenybluesblend @fearfestevil pic.twitter.com/qXnFRHfaHM

— Kirk Hammett (@KirkHammett) March 24, 2021
Kirk Hammett will feature alongside a host of musical legends when the Peter Green tribute concert airs next month.
The performance took place before the pandemic began and will also be released as a live album available on April 30 while you'll be able to watch the show a week earlier.
For more details, check out Radio Nova's report on it here.