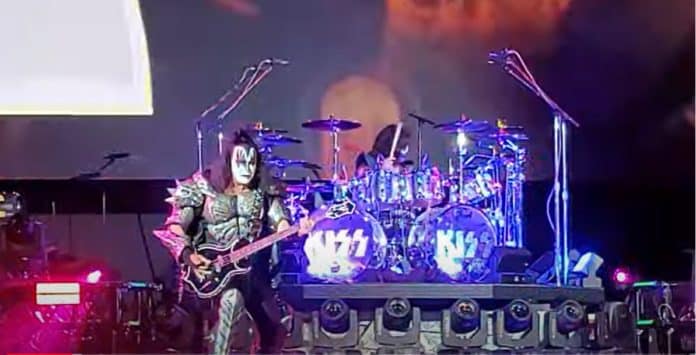 KISS performed a five-song set at New York's Tribeca Film Festival this week. This came following a screening for the band's upcoming documentary "Biography: KISStory".
You can check out the band's performance below.
This set saw the band sing tracks such as "War Machine", "Detroit Rock City" as well as their classic hit "Rock and Roll All Nite".
"We don't have a permit to make a long show", KISS's Paul Stanley said at the end of the show. "So this is a little short. It's like a sampling before you get your big meal in August". 
The four hour film Biography KISStory, is to air on A&E network in June for two nights. This is to precede the band's rescheduled tour which started in January 2019, but was stopped in 2020 due to the pandemic.
Check out the premiere here.
"Coldest place on earth"
Back in December, the band teased fans that they had booked shows for the "coldest place on earth" when this tour resumes.
"Most of the shows have already sold out. We start in summer", said their frontman Gene Simmons.
"The vaccines are gonna be out there for everybody, oh, by January, February, March at the latest, but we're gonna be out there a few months after that. And we've literally got a hundred and fifty cities booked", he added. More on that here. 
"fire breathing demon"
Another documentary about KISS is also coming to Netflix. The film is called "Shout Out Loud".
The biopic is set to focus on the formative years of Gene Simmons and Paul Stanley. It will also focus on the legacy and lives of the band. It was directed by Norwegian Joachim Ronning.
It recalls stories such as how Gene Simmons left his Jewish education, the Yeshiva.
"I remember walking out onto the street, seeing this Spanish girl jumping rope across the street, and staring at her long black hair slapping against this great butt", Simmons said. "It occurred to me this was better than religion. How could I get near that?". 
Recently Gene Simmons recalled the first time he met AC/DC's Angus Young. Find out more on that here.
Simmons also showed his support for tennis player Naomi Osaka following her withdrawal from the French Open. Find out why here.