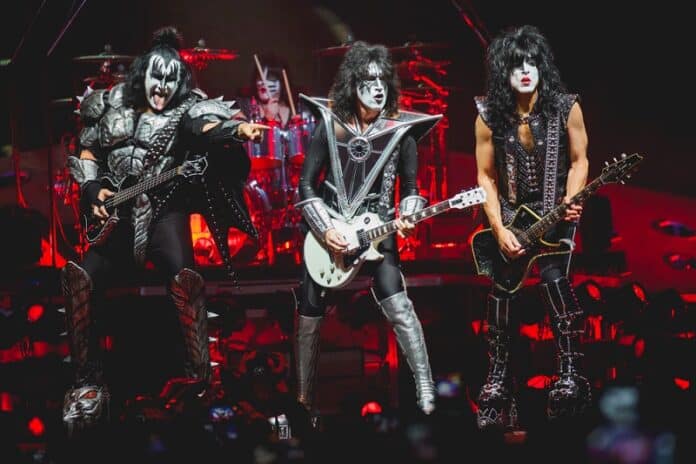 Rock icons Kiss will release their own brand of coffee next year in a new collaboration with Dead Sled Coffee.
While there hasn't been much details revealed about the new venture, Dead Sled Coffee announced the news on their Instagram.
The company captioned the post "Coffee you were made for loving. The Officially Licensed @kissonline coffee is coming in 2021."
Dead Sled Coffee's mission statement says "Dead Sled Coffee strives to create a culture of acceptance and respect no matter what your level of coffee knowledge is."
Kiss are known for their outlandish selection and quantities of merchandise. In the past, the band have sold their own casket, condoms, air guitar strings and deodorant .
This is not the first collaboration that Dead Sled Coffee have started. Other collaborations have seen the coffee company team up with Pennsylvania hardcore band Wisdom In Chains, New York ska group The Toasters, and also a number of TV and film characters including Vincent Price.
Kiss are to play an extravagant concert on New Year's Eve from Dubai. The concert will be streamed online and tickets start from €33. A statement published on the band's website said "In true KISS fashion, they are bringing the biggest & baddest concert event and record-breaking pyrotechnics show of the year, proving once again that KISS never does anything small."
"Filmed with more than 50 cameras and 360-degree views, this show produced by Landmarks Live can be seen globally with ticketing technology and livestream powered by TIXR and experienced like no other virtual concert before. You're invited to spend New Year's Eve with Demon, Starchild, Spaceman, and Catman as they rock out of 2020 and roll into 2021… all night! KISS 2020 Goodbye."
For more information on their New Year's concert, you can check out Radio Nova's report here.
Kiss are to embark on their farewell tour next year. The band have around 150 shows to play and rumours suggest that they could follow in Metallica's footsteps and play in Antartica.
Speaking to Californian radio 95.5 KLOS, Gene Simmons said ""You can't imagine what we've got planned — like, beyond… I said, 'No. We can really do that?' They said, 'Yup. Yup.' The political people said we can play there. And so there's gonna be stuff that's just gonna make you go, 'That's the coolest.'"
He went on to add "There's one place that's the coldest place on earth. And if you can imagine us playing there with even larger pyro than you've ever seen, 'cause there's nothing around there. But that's all I'll say about it."
When Metallica played in Antartica, special precautions were put in place to protect the delicate landscape. The thoughts of Kiss performing a full pyro show on the desert continent seem hard to believe, but if there was one band who could pull it off, it's Kiss.