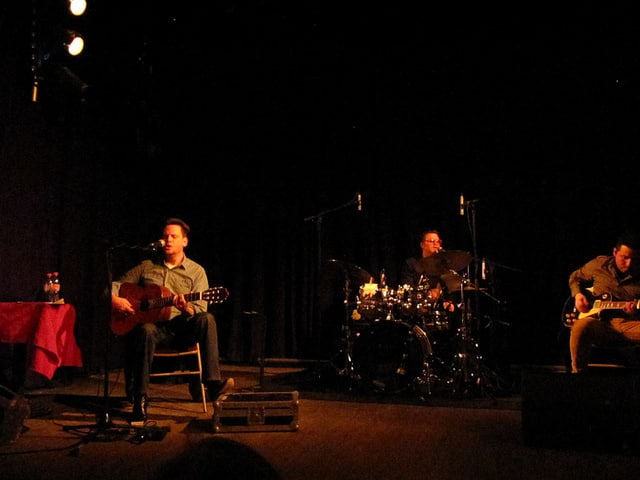 Laura Marling and Sun Kil Moon cover Led Zeppelin tracks to celebrate the 40th anniversary of Physical Graffiti.
A CD of cover songs is being released with this month's issue of Mojo magazine.
English singer-songwriter Laura Marling sings the track 'Bron-Yr-Aur', Austin rock band White Denim take on the tune 'Custard Pie' and American folk-rock band Sun Kil Moon's singer Mark Kozelek covers 'Sick Again'.
Physical Graffiti has been remastered and previously unheard material has been included for this edition.
The latest re-release follows hot on the heels of Led Zeppelin's reissue campaign of Zeppelin I, II, III, IV and Houses of the Holy.
Jimmy Page was also involved in the remastering of all the albums and tried his best to insure that the bonus tracks had not been heard before.
Speaking to Radio.com, Page said: "I left no stone unturned. I was even checking out whatever had come out on bootleg that had leaked out of studios in the past – not by us, I might add. But I wanted to make sure that the material that I was going to present was not out already on bootleg."
Physical Graffiti is the band's sixth studio album and was originally released in February 1975 as a double LP. The record included several earlier recordings from Zeppelin III, IV and Houses of the Holy.
The sixteen million selling album features rough mixes of the songs 'In My Time Of Dying' and 'Houses Of The Holy'.
The reissue also includes the initial rough mixes of 'Trampled Under Foot' called 'Brandy & Coke' and Sick Again' (Early Version).
As well as the Sunset Sound mix of 'Boogie With Stu', an early version of'Everybody Makes It Through,' an early version of 'In The Light' with alternate lyrics and an orchestra mix of Zeppelin's rocking eight minute song 'Kashmir', titled 'Driving Through Kashmir'.
Mojo CD Physical Graffiti Redrawn track list:
1. White Denim – Custard Pie
2. Blackberry Smoke – The Rover
3. Miraculous Mule – In My Time Of Dying
4. The Temperance Movement – Houses Of The Holy
5. Son Little – Trampled Under Foot
6. Songhoy Blues – Kashmir
7. Syd Arthur – In The Light
8. Laura Marling – Bron-Yr-Aur
9. Max Jury – Down By The Seaside
10. Michael Kiwanuka – Ten Years Gone
11. Duke Garwood – Night Flight
12. Rose Windows – The Wanton Song
13. Kitty, Daisy And Lewis – Boogie With Stu
14. Hiss Golden Messenger – Black Country Woman
15. Sun Kil Moon – Sick Again