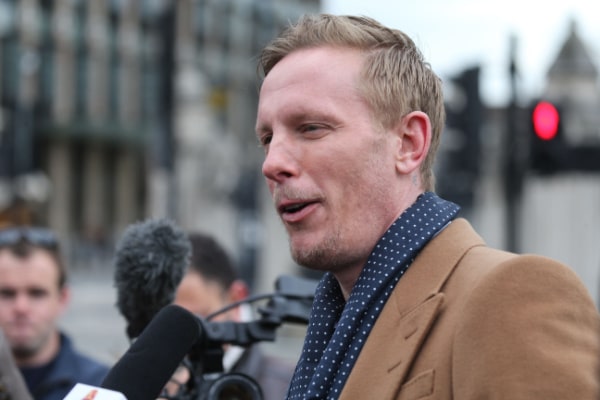 Would you like to listen to the article instead of reading it?
Laurence Fox has apologised to journalist Ava Evans, over comments he made about her on GB News this week.
Fox was formally suspended by the broadcaster, after making a string of comments about during an episode of Dan Wootton Tonight, comments which Ms Evans said made her feel "physically sick".
Fox Suspended
In a clip which was shared by Ms Evans online, Fox was heard saying, "We're past the watershed so I can say this… show me a single, self-respecting man that would like to climb into bed with that woman… ever… ever".
"That little woman has been fed… spoon-fed oppression day after day after day, starting with the lie about the gender pay gap", the presenter adds.
"She's sat there, and I'm going like, if I met you at a bar and that was like sentence three, chances of me just walking away are just huge".
"We need powerful, strong, amazing women who make great points for themselves. We don't need these feminist 4.0".
Other remarks made by Fox also include, "They're pathetic and embarrassing", and "Who'd want to s*** that".
After refusing to apologise for his remarks, which he claimed were "free speech", Fox was suspended.
"demeaning"
However, Laurence Fox has since had a change of heart, calling his comments "demeaning".
The presenter also insisted that they are "not representative of who I am".
While stating that he maintains the "sentiment" of his comments, Laurence Fox also claimed that he was angry, accusing Ms Evans of demeaning male suicide.
In a new video posted online, Fox apologised for his comments.
"I could have and should have expressed it better", he said. "It's not right, it's demeaning to Ava, so I'm sorry for demeaning you in that way, however angry I am with you still for doing that, and it demeans me because it's not representative of who I am".
"I'm not saying any of this stuff because I know I'm going to get sacked tomorrow. I'm saying it to clear my own conscience", he also added.
"I express my apology to Ava for the language used, but I maintain the sentiment".
Along with Fox's suspension, Dan Wootton also saw his contract as a columnist with MailOnline terminated, according to a spokesperson for DMG Media, the news' website's parent company.
OfCom also confirmed that an investigation was launched into GB News, following countless complaints.