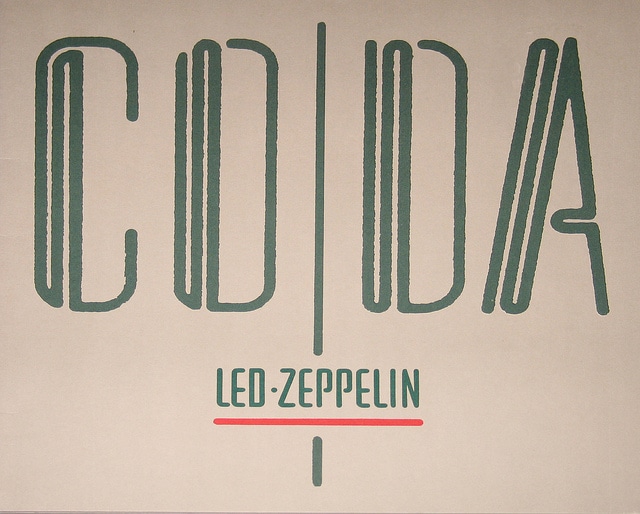 Coda is the ninth and final studio album by Led Zeppelin and it was released on the 19th of November 1982. The album was a collection of unused tracks from various sessions during Led Zeppelin's twelve-year career.
Released two years after the 1980 death of John Bonham, Coda tied up most of the loose ends Led Zeppelin left hanging: it officially issued a bunch of tracks circulating on bootleg and it fulfilled their obligation to Atlantic Records. Coda doesn't contain every non-LP track Zeppelin released — notably, the B-side 'Hey Hey What Can I Do' and anything from the BBC sessions were left untouched (they'd be added to Coda on a 1993 CD revision of the compilation, and also appear on the major three-disc overhaul Jimmy Page masterminded in 2015).
It does gather much of what was floating around in the wake of their demise, including three blistering rockers that were rejected for In Through The Out Door. If 'Ozone Baby', 'Darlene', or 'Wearing and Tearing'– rockers that alternately cut loose, groove, and menace — had made the cut for In Through The Out Door that album wouldn't have had its vague progressive edge and when they're included alongside a revival of the band's early raver 'We're Gonna Groove'.
The big-boned funk of the Houses Of The Holy outtake 'Walter's Walk', and the folk stomp 'Poor Tom' (naturally taken from the sessions for Led Zeppelin III), they wind up underscoring the band's often under appreciated lighter side. For heaviness, there's a live version of'I Can't Quit You Baby' and 'Bonzo's Montreux',  a solo showcase for the departed drummer, and when this pair is added to the six doses of hard-charging rock & roll, it amounts to a good snapshot of much of what made Led Zeppelin a great band: when they were cooking, they really did groove.
Tracklist:
1. We're Gonna Grove
2. Poor Tom
3. I Can't Quit You Baby
4. Walter's Walk
5. Ozone Baby
6. Darlene
7. Bonzo's Montreux
8. Wearing and Tearing
Photo Credit: vinylmeister