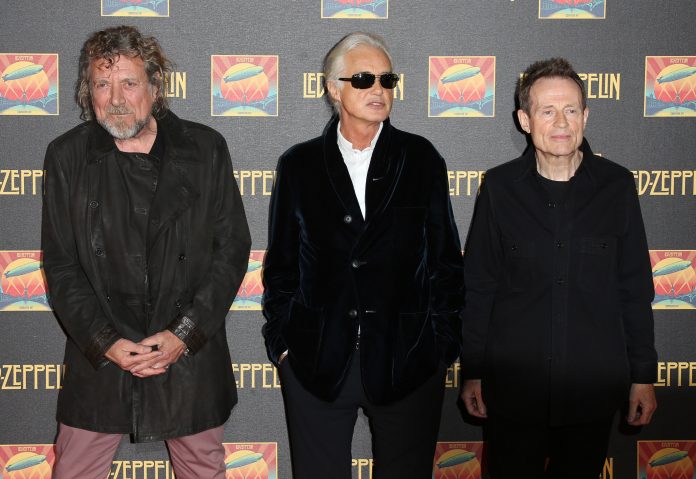 According to Jimmy Page, Led Zeppelin were ready to hit the road and tour again after their 2007 reunion.
The rock icons, Robert Plant, Jimmy Page, John Paul Jones and Jason Bonham, son of former Zeppelin drummer John Bonham played a show at London's 02 Arena. The concert was organised as a benefit for former Atlantic Records president, Ahmet Ertegun.
On the night, the band played many hits such as 'Kashmir', 'Whole Lotta Love' and 'Stairway to Heaven'. You can watch the performance of 'Kashmir' below.
In a new interview with Classic Rock, Page has admitted more tour dates were discussed but never came to fruition. In the lead up to the concert, the band had many rehearsals and Page said "We'd had a lot of fun up to that point in the rehearsals because mainly it was the three of us.
"There'd be Jason , John Paul Jones and myself playing together, so that Jason felt really part of the band, as opposed to like he's there because he's John's son. He was there because he was a damn good drummer and it was right that he should be sitting in that seat. But he needed to know that."
Page added "And yeah, a lot of rehearsals went into it. We were ready for it."
"It had been said that there was going to be a tour. There weren't any dates put in, but obviously we had honed ourselves to the point where we were ready."
Once the dates failed to materialise, the band put off all talks of a reunion tour. Since their break up in 1980, previous reunions for the band have been marred with controversy.
Their 1985 Live Aid appearance in America was plagued by many issues including Plant's hoarse voice, poor functioning monitors and lack of rehearsing time with the two drummers called upon to fill in for John Bonham; Phil Collins and Tony Thompson.
In 1988, the band reunited with Jason Bonham for Atlantic Records 40th birthday. Before the concert, Plant and Page argued about whether or not they should play 'Stairway to Heaven'. John Paul Jones keyboards were not picked up on the television feed.
1994 saw a release of live album entitled 'No Quarter: Jimmy Page and Robert Plant Unledded'. Former bassist John Paul Jones was upset at the fact he was not told about the reunion and that they used the name 'No Quarter' for the album. 'No Quarter' was a track on Zeppelin's 'Houses of the Holy' album in which Jones put a lot of work into.
The 2007 reunion was a success. The band were able to put their differences aside and performed a great set. Led Zeppelin were ready and wanted to tour after the London show. Plant was busy with his work with Alison Krauss and had told the band that. Page and Jones rehearsed with Myles Kennedy with the intention to tour, however, it never came to be.
Led Zeppelin recently won a long running plagiarism case about their hit 'Stairway to Heaven'. Radio Nova reported on the case and you can read all about it here.