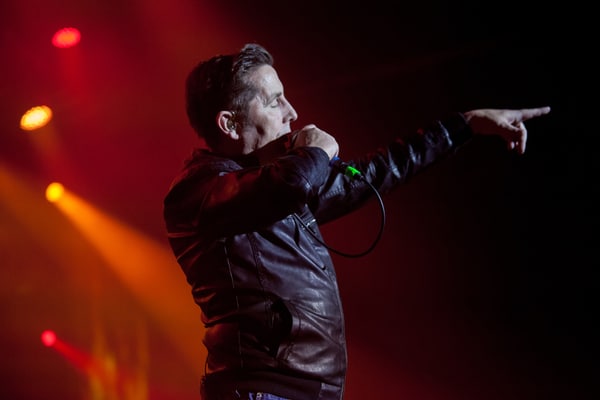 Singer Christy Dignam has branded politicians as "clowns". The Aslan frontman also added that "Leo Varadkar doesn't give a f**k".
The Crazy World singer criticised the Tánaiste for attending a music festival in the UK. This music festival took place at a time when similar events were banned in Ireland.
The singer made these comments during an interview with Hot Press Magazine. This was ahead of his debut solo album The Man Who Stayed Alive this month.
"The album's out in October", Dignam said back in July. "The first single is out in the middle of August, a song called High… It's kind of about the pandemic and how it's changed the world and stuff. You just want one moment away from that, liberation from that and you kind of find it in the person you love".
More on this here.
The album also features a track called Shame The Devil, where Dignam blasts Irish politicians, calling them "clowns".
"'The clowns just carried on' is the line", Dignam also said. "There's an arrogance in the Government in this country and sometimes it's f***ing mind-blowing".
Dignam referred to a photograph of the Fine Gael leader attending this festival which did the rounds on social media. Dignam called this photo (see below) shameless.
"He did that obviously knowing it was going to cause a backlash", he said. "But he doesn't give a f**k".
He also added, "It's like years ago when he said people should get their parents to buy them a house!".
"And he wasn't being flippant – he just has no concept about how real people live in this world".
.@LeoVaradkar pictured in London this afternoon at the Mighty Hoopla music festival

Pic credit: @oonaghmurphy pic.twitter.com/Nqj1898934

— Paddy Cosgrave (@paddycosgrave) September 4, 2021
"Please god give me 10 years"
Christy Dignam is battling an incurable blood disease. He added that he is grateful for years he has had since his diagnosis and to be still making music.
He also supports euthanasia.
"When I was in hospital and I got diagnosed, I was f***ing on my knees and I was praying 'Please God, just give me 10 years", Dignam revealed. "That's all they want".
"I'm eight years into that 10 years now and I'm back on me knees here, 'Listen God, I know I said ten, but can you give us another ten?'.
"I don't feel nearly ready to f***ing die. But if things got bad, I would have no problem with euthanasia.
"If people are in agony, if they've no quality of life, why make them live it?".
"It's a f***ing nightmare"
Christy Dignam has also called for drugs to be legalised to free communities from drug dealers. The singer had previously battled a heroin addiction.
"You see the f***ing Kinahans and all the s**t that's going on", he said.
Dignam continued, "I see it in Finglas. Young kids walking around with €10,000 bulldogs and f***ing Gucci shoes because they're selling crack on the corner".
"And it's killing people. We should decriminalise it and invest all the money spent on policing drugs – arresting people, jail costs and court costs – into the rehabilitation of drug addicts".
"Listen, I've been there. Nobody wants that life. It's a f***ing nightmare".