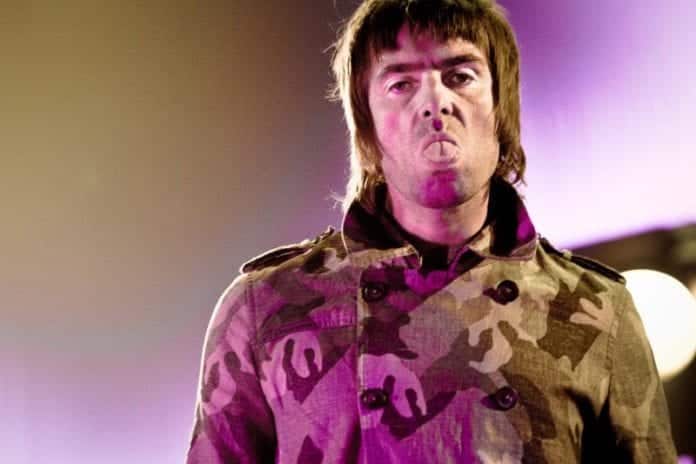 What's the first thing you'd buy if you were given a big cheque? I'm sure we've all thought about it. Especially around this time of year! While the rest of us might have to continue dreaming, Liam Gallagher has just revealed what he spent his first big cheque on.
In a clip from his Christmas Eve interview on BBC 6Music's 'The First Time With…', Liam told host Matt Everitt what he bought with his first ever royalty cheque – it ended up on the cover of Oasis' 'Definitely Maybe' album. Any guesses?
"I don't know about the cheque, I'm still waiting for it mate" Gallagher joked. "I remember the first thing I bought with it was a scooter – a 1954 Lambretta, which I've still got. That's on the cover of 'Definitely Maybe'. There's some shots of it on there."
6 Things We Learned from The First Time with… @LiamGallagher
🍹 @PaulMcCartney's favourite cocktail
💸 What he bought with his first big royalty cheque
👬 "If Oasis ain't happening, the second best thing is two solo albums from us both!" https://t.co/L9e4ti0X6Z

— BBC Radio 6 Music (@BBC6Music) December 21, 2017
Like the son we'd all wish for, he spent his second royalty cheque on a new house for his mum. 'but she didn't want it. It was a lovely little cottage up in Heaton Moor,' he said. 'I give her the keys and she's going, 'What do I want this for?' I was like, 'Cos it's better than the one that you're in, innit.' She goes, 'No, I don't want it.' 
Mammy Gallagher apparently 'took offence' at the idea that she needed a new house. 
'So I had to sell it back to the geezer,' he said. 'She didn't want it. She goes, 'All I want is a brand new gate.' Cheap date, mate – you know what I mean? So I went – I'll tell you what, I can do better than that – I'll buy you a fence and a gate. And that's all she's ever wanted.'
https://www.instagram.com/p/BWp7KhkFndm/
Liam went on to say that she still lives in 'the same house with the same fence and the same gate. She's a legend.'
 You can hear the full interview on BBC 6Music at 1pm on Christmas Eve. 
Feature Image: Ben Houdijk