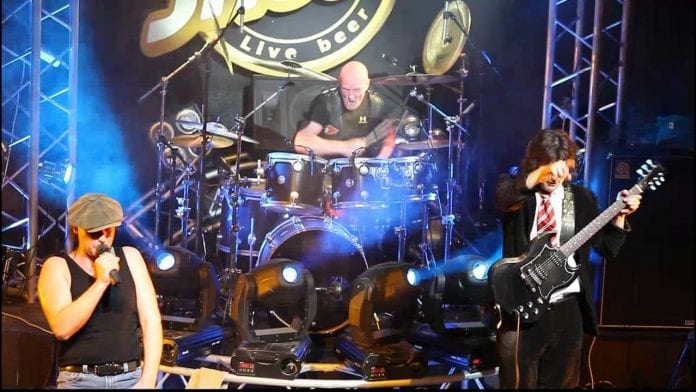 The first single from AC/DC's new album premiered on radio today and it definitely sounds like classic AC/DC.
The new tune is called 'Play Ball' and is the first preview of the band's new material from their forthcoming album titled Rock Or Bust.
Last week, 'Play Ball' was played over a promotional advert for the upcoming baseball post-season, we only heard a portion of the song, but now we have it in full.
Rock Or Bust is due out in December and features 11 new tracks. The upcoming LP will be their first since Black Ice released six years ago.
Drummer Phil Rudd recently told Triple M, "I've never played better. I hope it's as good as I remember when I came away from the studio. It's pretty damn good."
AC/DC's 15th studio album was recorded in Vancouver, Canada. Singer Brian Johnson said, "It was brilliant over there. I'm very excited and we've got some great songs."
Listen to AC/DC's new single 'Play Ball' below.
This will be the first AC/DC record without Malcolm Young. The band and his family both confirmed that the guitarist will not be returning to the group, due to health issues.
Malcolm Young co-founded AC/DC in November 1973 with his younger brother Angus, they were 18 and 20 years-old. Malcolm played with the band for 40 years as the rhythm guitarist, he was heavily involved in the band's sound, developing many of the band's signature guitar riffs and co-writing material with Angus.
Play Ball is available now to anyone pre-ordering the digital edition of the album.