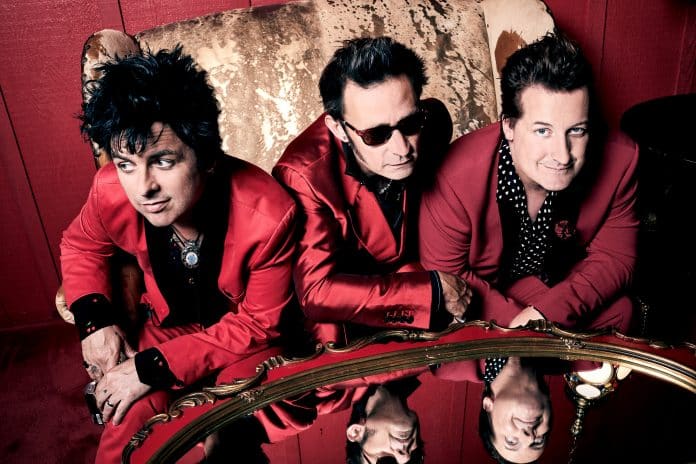 Green Day have released their new song "Here Comes The Shock". You can have a look at the music video for yourselves here.
It is the first new material released by the band since "Father of All" in 2020. "Father of All" was also part of the National Hockey League's Lake Tahoe outdoors game programming Saturday.
In 2019, Green Day entered into a two-year partnership with the NHL. This has subsequently led to the release of Father of All's "Fire Ready Aim". The band also performed at the 2020 NHL All Star Game.
"Gonna rumble in the street"
For the track's music video, Green Day teamed up with "Punk Rock Aerobics" co-founder, Hilken Mancini. Mancini created a two and half minute routine filled with air guitars, skanks and circle-running.
On the track, frontman Billie-Joe Armstrong sings, "We got the numbers/Gonna rumble in the street/We're gonna take it to the grave".
We also brought you the news last November that Green Day's side project, The Network released their first song in 17 years.
Billie Joe Armstrong has always denied that The Network is a side project of the band's. More here.
During the first lockdown, Armstrong annouced a series of various song covers as part of a full length cover album.
Armstrong covered tracks from artists such as, John Lennon, Kim Wilde, as well as the Bangles among others. He also covered Billy Bragg's track "A New England". Armstrong said he enjoyed this track as well as hailing the late Kirsty McColl's version of the song.
"Reflecting on the things that matter"
At the time, Armstrong released a statement,  "While we've all been in quarantine I've been reflecting on the things that matter the most in my life: family, friends, and, of course, music". 
The Green Day frontman also added, "I figure if we have to spend this time in isolation at least we can be alone together". 
Green Day's Hella Mega Tour to go ahead?
Green Day's delayed "Hella Mega" tour alongside Weezer and Fall Out Boy still looks set to go ahead this Summer. It was orginally scheduled to take place last year, but was pushed back due to the pandemic.
Fans have been urged to keep their tickets as the tour will go ahead at some stage this year. All things going well, the tour dates as they stand are as follows.
Live music could return to America in the next few months. See here.