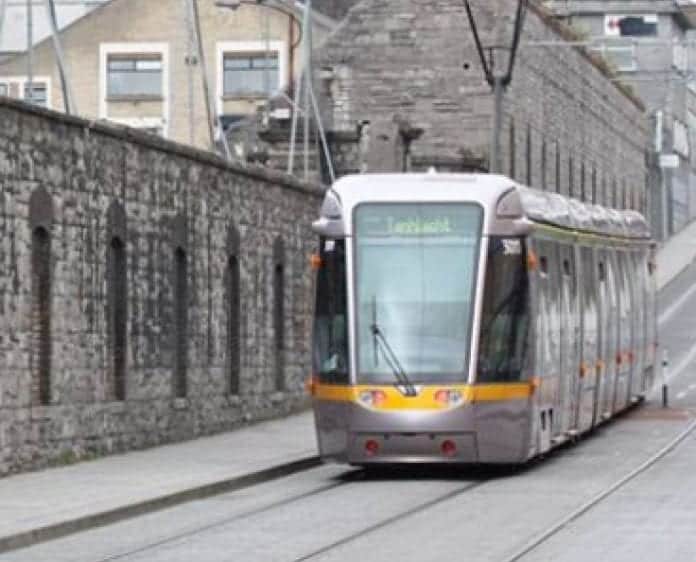 A Luas ticket inspector has lost his appeal to get his job back for "gross misconduct". The incident in question took place in September 2019.
The inspector was sacked for pinning a passenger's legs to the ground for almost 10 minutes. This altercation was filmed by another passenger and posted on Facebook. It has had over 14,000 views online.
The altercation happened following a disagreement over an unpaid fare. It happened during rush hour at Bluebell Luas Stop on 27 September 2019. The Revenue Protection Officer was suspended following this incident and later dismissed.
The inspector's appeal was subsequently rejected by Maria Kelly, the Adjudication Officer for the Workplace Relations Commission.
Luas inspector "Not authorised to apply physical restraint"
In her ruling, Maria Kelly found that Transdev Dublin Light Rail's decision to dismiss the inspector was within the band of reasonable responses available to the employer.
On this ruling, Ms Kelly said, "The passenger was restrained on the ground, in public view, for up to ten minutes".
"The role of an RPO is to check passenger tickets and they are not authorised to apply physical restraint to passengers". 
He "was trained to manage conflict situations and did not follow correct procedure on the day in question", she added.
Maria Kelly did acknowledge that the inspector in question did not start this altercation. However she did state, "he participated in restraining the passenger on the ground for a prolonged period".
Many options were available
Maria Kelly also added that the inspector had so many other options. She said that he could have contacted the control room, walked away or stopped vehicles.
"He didn't take any of these options and went outside normal procedures", the Adjudication Officer said.
Ms Kelly also said the the RPO (Revenue Protection Officer) had claimed he acted in the best interests of the passenger to prevent harm on the young male's legs.
But Transdev did also tell the WRC, "there was no health and safety basis for the RPO kneeling on the legs of the passenger, who posed no threat to him, for approximately ten minutes".