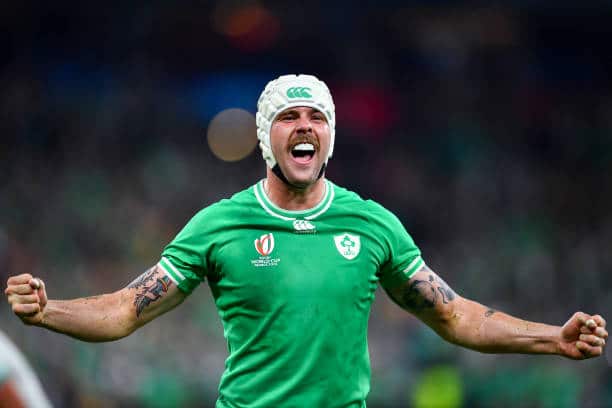 Would you like to listen to the article instead of reading it?
The Ireland coaching staff have no concerns regarding the fitness of Mack Hansen for tomorrow's World Cup quarter-final against New Zealand at the Stade de France.
Winger Hansen appeared to be running freely, albeit with a heavy strapping to his right calf due to the injury which forced his withdrawal, last Saturday in beating Scotland, which prevented him from training this week.
Encouragingly, should Ireland boldly go where no Ireland team has ever gone before and reach a World cup semi-final, then it would appear that the injured pair James Ryan and Robbie Henshaw maybe available after taking in the eve-of-match captain's run in St. Denis in the French capital today.
"Yep, everybody is fit. Mack was looking as sprightly as ever," said Ireland's attacking coach Mike Catt who allayed fears over the heaving strapping as he maintained: "He is all good, running freely."
After an opening loss to France, the All Blacks have regrouped with three runaway wins wins over Namibia, Uruguay and a dire freefalling Italy to score most pool stage tries.
"What we've seen is the good All Blacks of old, really, exceptionally dangerous ball-in-hand," said the Irish attack coach and former England centre Catt.
He was asked as to the influence of the former Leinster and Ireland coach Joe Schmidt who's not firmly ensconced within his native New Zealand.
"Joe has definitely brought a physicality at the breakdown and their ball carrying. Obviously, it was something that Joe was massively passionate about with Ireland as well, especially in the wide breakdowns.
"They put a lot of pressure in those areas, so it's making sure that we match them physically but being tactically good in the same breath. Across the board they have a hell of a lot of experience, even coming off the bench – you know, Sam Whitelock – these guys that have hundreds of caps really.
"They are very experienced and know exactly what they need to do to win these big occasions. It's going to be a great test match and we're looking forward to it."