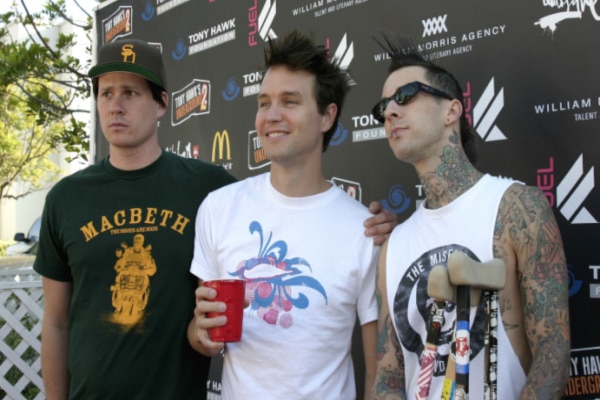 Mark Hoppus has claimed that that there is "no news to share" regarding rumours that Tom DeLonge was to rejoin Blink-182.
DeLonge left the band in 2015, and was replaced by Matt Skiba. Earlier this month, Skiba had himself gone public with his uncertainty over whether he was still part of the band. 
After joining the band, Skiba recorded two albums with the band, 'California' and 'Nine'.
"Your guess is as good as mine", Skiba said previously. "Regardless, I am very proud of and thankful for my time with Blink 182. We shall see…". 
"no announcement"
Since then, Mark Hoppus stated that there was "no news to share", regarding any speculation of Tom DeLonge returning to Blink-182.
Hoppus had revealed this via his Discord account, where he was celebrating 30 years since Blink-182 were founded.
"There is no news to share", Hoppus said. "There is no announcement. Today is thirty years of blink-182!". 
Hoppus also added, "If and when blink has any announcement about anything, you will hear it from the official blink-182 outlets. Not teased on a radio station like 'tune in for a major announcement…Tom tagged Mark in a photo from two decades ago". 
While there maybe "no news to share", Hoppus has not confirmed or denied these rumours.
While he has been busy sharing Blink material on his Instagram, Tom DeLonge has yet to comment on this matter.
DeLonge had previously shared a photo of the band from the 1990s, via his Instagram account. 
Matt Skiba who replaced him had stated in the past, that he would welcome DeLonge's return to Blink-182.
"We haven't really talked about that, but I'm open to anything in the future", Skiba said last year.  ​"I don't know how that would work if it's all four of us. Like, we're all going to live in the same house again?".