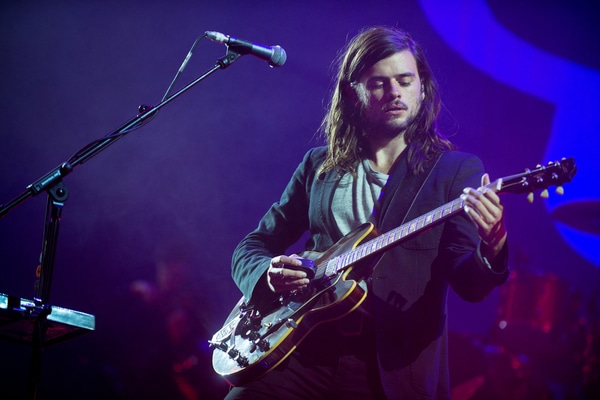 Mumford & Sons banjo player, Winston Marshall is "taking time away" from the band following backlash on social media. Marshall is embroiled in controversy after he tweeted praise for right-wing writer, Andy Ngo for the release of his book.
The tweet, which has since been deleted, posted congratulations to Ngo on publishing his most recent book, Unmasked. Ngo's book, which was published last month, looks at "Antifa's radical plan to destroy democracy." In the tweet, Marshall wrote: "Finally had the time to read your important book. You're a brave man".
Marshall later apologised in a statement posted to his Twitter account on Tuesday night, where he announced he will be taking a leave of absence from the band "to examine my blindspots". The musician said has "come to better understand the pain caused by the book I endorsed. I have offended not only a lot of people I don't know, but also those closest to me, including my bandmates and for that I am truly sorry".
Marshall continued: "As a result of my actions I am taking time away from the band to examine my blindspots. For now, please know that I realise how my endorsements have the potential to be viewed as approvals of hateful, divisive behaviour. I apologise, as this was not at all my intention."
Marshall's bandmates Marcus Mumford, Ben Lovett and Ted Dwane, along with their management, decided it would be best to ask Winston to leave the group. The Sun quotes a source close to the band who said Winston's staunchly right-wing political views "have been causing tension for some time now within the band".
"There has been a rift forming for the past four years with some people even going as far to say Marshall has been 'radicalised'. Marcus would always be an advocate for his right to free speech and for him to believe what he wants.
"But his tweet on Sunday was the final straw and they said they couldn't put up with it any longer because it massively impacts the band's image. It has been hugely difficult but that was the decision they had to make."
Fans online accused Marshall of "endorsing fascism" following his congratulations to Andy Ngo on his new book, Unmasked: Inside Antifa's Radical Plan to Destroy Democracy. According to the Los Angeles Times' review of Ngo's book, Unmasked downplays the murders of Heather Heyer and Trayvon Martin, argues that communists in Weimar Germany should be scrutinized as much as Nazis and calls the Proud Boys a "pro-Trump fraternity".
Taking us back to days of crowds and gigs, check out Mumford & Sons' cover of 9 Inche Nails track, Hurt. In 2019, the folk giants treated gig-goers to a rendition of Nine Inch Nails' emotional epic, 'Hurt', during their live show on Saturday night. Footage of the cover is streaming below.