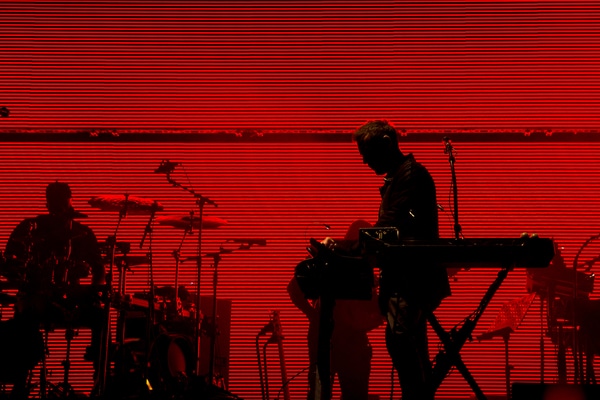 English trip hop group, Massive Attack have announced a summer show in Dublin this year at the Royal Hospital Kilmainham, August 28th. Tickets for MCD's special event are set to go on sale this Friday, 10 am via Ticketmaster website, priced €59.50.
Following gigs across Europe, Massive Attack return to the Emerald Isle for the first time in three years. The group's last studio album came way back in 2010, with Heligoland, although they did drop a deluxe reissue of 1998's'Mezzanine just last year.
Forming in Bristol, 1988, the group consisted of Robert "3D" Del Naja, Adrian "Tricky" Thaws, Andrew "Mushroom" Vowles, and Grant "Daddy G" Marshall. The latter of whom is no longer with the group, with the former three receiving vocal backing from guests Shara Nelson and Horace Andy.
Starting out as a spin-off production group in 1988, Massive Attack independently released Any Love, with singer-songwriter Carlton McCarthy. Through the support of Neneh Cherry, the group signed to Circa Records (subsidiary of Virgin Records, later acquired by EMI) in 1990. They committed to deliver six studio albums and a 'best of' compilation.
Releasing five studio albums, and with each selling over 13 million copies worldwide, Massive Attack have consistently bewildered fans with hard-hitting music and dominating visuals in videos and gigs. Their debut album Blue Lines released in '91, unleashing Unfinished Sympathy onto the world and into the charts. Their huge track, Teardrop landed in '98 via the release of epic album Mezzanine and charted No. 1 in the UK, much like 2003's 100th Window.
The band have headlined Ireland's largest gathering of music & arts, Electric Picnic back in 2018 and blew out the 3Arena several times. During their support of Radiohead at RDS, COP26 activist Robert Del Naja spoke candidly with Hotpress' Stuart Clark.
"Daddy G saw The Clash on the White Riot tour, but he'd never really heard The Pop Group or Wire or the Gang Of Four, so I lent him a load of my records, the Massive Attack frontman said. Grant and Robert "sworn allegiance to the guitar" following a review accusing the band of becoming another Fleetwood Mac/Eagles dinner party music band through their then new album, Protection.
"I have to say that the idea of it being brought out with the After Eights is a bit f****** disconcerting. I know I'm being guilty of reverse snobbery, but I don't want our records in the same collection as Rumours and Hotel California. Physical Graffiti and Animals, maybe, but not those two!"