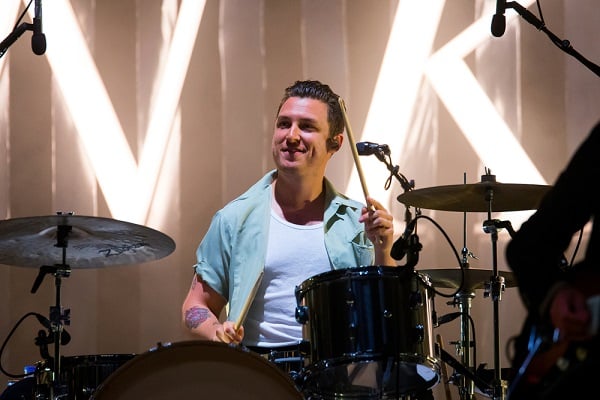 Sheffield rockers, Arctic Monkeys have confirmed that they have begun working on their new album. The band's drummer, Matt Helders has revealed that the band are currently in the "early stages of trying to write a [new] record". Matt and the group had intended to head back into the studio this past summer, but the current coronavirus pandemic has put a stop to their recording sessions.
The world's situation has not changed for the better, with cases seemingly rising all the time, and this has forced the band to put their recording plans on ice. However, that has not stopped Matt and the gang from adding more magic to their seventh studio album, even if all band members cannot be in the same country.
Taking to Instagram Live on January 13th, Matt spoke of how the band has been faced with various obstacles as they attempt to follow up their 2018 album, Tranquility Base Hotel & Casino.
"Being separated by the sea is one of them," Matt noted. The band now live in separate parts of the world with Alex Turner reportedly moving back to England from Los Angeles last year.
"We're all eager to do it – we would have been doing it by now in a normal time. There's definitely a desire from our end to do a new record, as soon as we can," Matt added. The drummer discussed how he is "always tinkering on machines and synths" in his Los Angeles home. "I've got drums here. [I'm] always trying to improve on and study certain things."
Arctic Monkeys' manager Ian McAndrew last month provided a similar update to Matt and discussed how the pandemic has hampered their plans. Ian said the band are "beavering away" in this "rather disjointed time" and he hopes that they will start "working on some new songs next year, with a view on a future release". McAndrew added that while the current pandemic has blitzed through the music industry, it "also presented an opportunity" for the band to focus more on their next move.
"If you're literally locked down, you're going to knuckle down to some work at home, and that's what's been going on," McAndrew added. "When the restrictions permit I do get along to have a listen to what's going and check out some new ideas, which is always very exciting. "I'm hoping that next year, when the restrictions lift, we'll be able to get together and get on with it."