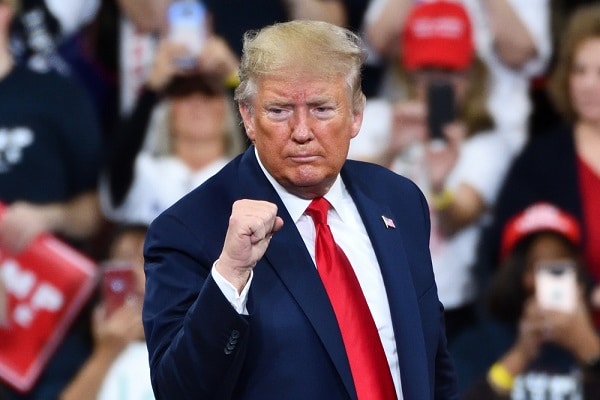 President Donald Trump returned to Twitter yesterday evening with a video message in which he slams the social media platform and denounces Capitol rioters. Trump returned to the platform via the official White House account, with his personal account, @realDonaldTrump permanently banned since January 8th.
Trump had been kicked off the platform after he seemed to have enticed the riots by encouraging his supporters to protest against Joe Biden's presidential victory. Over the past months, Trump has insisted that the election was fraudulent and claimed to his supporters that it had been "stolen from us".
"We had an election that was stolen from us," claimed Trump. "It was a landslide election, and everyone knows it, especially the other side".
However, Trump's Twitter return was of a video message in which he began by slamming the events that took place on January 6th. The events led to his social media bans and the House's impeachment of him for inflaming the insurrection.
"Like all of you, I was shocked and deeply saddened by the calamity at the Capitol, last week," Trump said.
"I want to be very clear: I unequivocally condemn the violence that we saw last week. Violence and vandalism have absolutely no place in our country and no place in our movement," Trump said. "Making America great again has always been about defending the rule of law, supporting the men and women of law enforcement, and upholding our nation's most sacred traditions and values."
Trump implied that what happened at the Capitol was an attack was a much stronger criticism than his speech following the riots. during which he told his supporters: "Go home. We love you, you're very special."
"No true supporter of mine could ever endorse political violence. No true supporter of mine could ever disrespect law enforcement or our great American flag. No true supporter of mine could ever threaten or harass their fellow Americans," Trump declared. "If you do any of these things, you are not supporting our movement; you are attacking it, and you are attacking our country."
Though Trump did not address his recent impeachment or his role in the insurrection, he did, however, slam the technology companies that have removed him from their platforms. Trump calls the actions of companies such as YouTube, Facebook and Twitter, an "unprecedented assault on free speech".
"The efforts to censor, cancel and blacklist our fellow citizens are wrong and they are dangerous," Trump said. "What is needed now is for us to listen to one another, not to silence one another, not to silence one another".
The current President ended his address of the nation by asking people to find "common ground" with one another and "focus on advancing the interests of the whole nation, delivering the miracle vaccines, defeating the pandemic, rebuilding the economy, protecting our national security and upholding the rule of law".
Trump then added: "Today I am calling on all Americans to overcome the passions of the moment, and join together as one American people. Let us choose to move forward united for the good of our families, our communities, and our country".