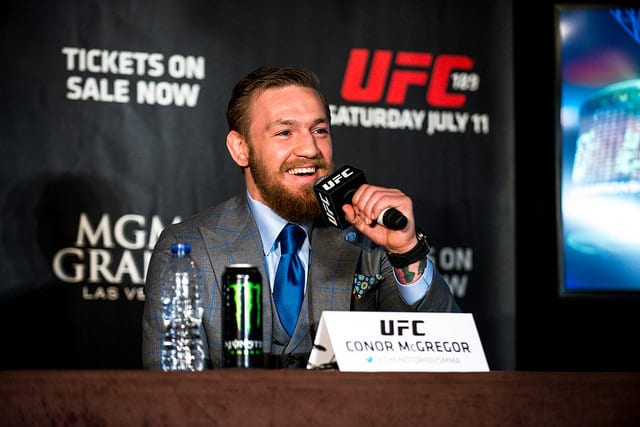 A video released by TMZ Sports shows Dublin's great mixed martial artist Conor McGregor appear to take a swing at a much older man in a pub back in April of this year.
Reports had surfaced at the time that the former UFC champion had been involved in an altercation in a public house.
TMZ report that the video saw the Crumlin man bop a seated man in the head after he 'apparently refused a drink from the former UFC champion.'
The video shows McGregor offering shots of his Proper 12 whiskey to all and sundry. The victim seemingly refused the drink which sparked McGregor to hit him in the head.
In a flash McGregor was escorted from the pub. Gardaí were called to investigate the incident.
Lately McGregor has been in the news for more negative reasons than positive in many cases.
McGregor was arrested in New York for his assault on Khabib Nurmagomedov at UFC 223, detained in Miami for smashing a fan's phone, accused of sexual assault, and suspended from the UFC for a fight that broke out following UFC 229.
McGregor's UFC 229 capitulation at the hands of a dominant Nurmagomedov was his only bout in three years with now only a dwindling window of opportunity for the Dubliner in his own game.
Since announcing his retirement from the sport, he has however teased a comeback on several occasions, but without a full follow-up.
His standing in the UFC is unaffected with its president Dana White still confident that McGregor will return to the Octagon in the near future.
McGregor was briefly linked to a potential bout with Anthony Pettis at UFC 244 in New York City this coming November, but that fight has since fallen through.